SUMMER ZERVOS. Former Apprentice contestant suing Trump. "Ms. Zervos was ambushed by Mr. Trump on more than one occasion," the complaint states. "Mr. Trump suddenly, and without her consent, kissed her on her mouth repeatedly; he touched her breast; and he pressed his genitals up against her. Ms. Zervos never consented to any of this disgusting touching."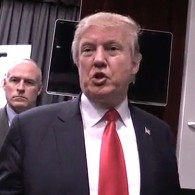 DONALD TRUMP. Taking the weekend off after being sworn in: "One of the first orders I'm gonna sign — day one — which I will consider to be Monday as opposed to Friday or Saturday. Right? I mean my day one is gonna be Monday because I don't want to be signing and get it mixed up with lots of celebration, but one of the first orders we're gonna be signing is gonna be strong borders."
NO CONFLICTS. Trump announces expansion of Scottish golf course…
JAKE TAPPER.  On the dangers of Donald Trump: "He was obviously trying to get us to stop focusing on the story and to discredit all of us."
https://www.youtube.com/watch?v=MRE7cfkKi60
HE'S BACK. Rick Santorum coming to CNN.
LAURA INGRAHAM. The FOX News host is considering running against Senator Tim Kaine (D-VA): "I'm considering," Ingraham told "Fox & Friends," adding: "I haven't made any decisions but a number of folks in Virginia who are well connected are very interested in my running, and that's very flattering."
.@IngrahamAngle announces she is considering a Senate run in Virginia challenging Sen. Tim Kaine pic.twitter.com/cnbLeYuiEW

— FOX & friends (@foxandfriends) January 17, 2017
ORLANDO BLOOM'S JUNK: Featured guest at his 40th birthday party thrown by Katy Perry.
HAPPY BIRTHDAY. President Obama pays tribute to Michelle on her 53rd.
MYSTERIES. New clues bring answer closer in DB Cooper planejacking: "Titanium was a rare metal in 1971 and this makes it extremely unlikely it is a post-event contamination," Citizen Sleuths notes on its site, which lays out in painstaking detail all of the findings from the case. "Its presence constrains Cooper to a limited number of managers or engineers in the titanium field that would wear ties to work."
CHRIS VOTH. Volleyball player was denied pro contract because he was gay: "We almost had a contract and were negotiating details, housing and small things. All of a sudden they announced they weren't interested any more after all. It was because I'm gay. They said [to my agent] they didn't want to take that risk — they didn't want to have a player in their team who breaks boundaries. They claimed they were worried that the opponents' fans would endanger my safety, but some things made me suspect it was an excuse."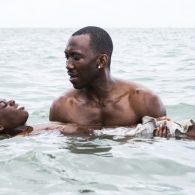 MOONLIGHT. Mahershala Ali says he mourned having to leave his character Juan: "Maybe I was just more open on this particular gig, but I learned so much from working on Moonlight. I was invested in a way that I can't say I've ever been. I want to be that invested on every project, but I would leave working on Moonlight to go work on something else — I was working on several things — and I would really miss Juan."
JUGHEAD. Cole Sprouse says he wants his Riverdale character to be asexual: "Asexuality is not one of those things in my research that is so understood at face value and I think maybe the development of that narrative could also be something very interesting and very unique and still resonate with people, and not step on anyone's toes."
FINLAND. Same-sex marriage comes into effect on March 1.
OTTAWA. Centreville Pub, one of the province's first gay bars, closes abruptly: "The owner of the pub had been trying to sell the business for close to a year. Last January, the pub was listed for $399,000 while the building was for sale for $849,000. A notice of termination from Windle Law Firm was found on the doors of the pub Monday."
GATOR. Massive reptile caught on film at Florida nature center.
https://www.youtube.com/watch?v=dyntJmNzUVg
TOO HOT FOR TUESDAY. Popeye.