Chris Salvatore, the L.A. actor whose relationship and care for his ailing neighbor Norma made national news several weeks ago, announced on social media that Norma has died.
Wrote Salvatore:
It's with a heavy heart that I share the news that earlier this morning the world lost a truly inspiring, beautiful woman. Norma is now resting peacefully in the eternal and while she may no longer physically be with us, her spirit will continue to fill the hearts of so many people. Perhaps Norma's lasting legacy is that her story helped the world to see the true meaning of love. Norma reminded me that we all are created to love and all desire to be loved. This year Norma has helped the world see the true meaning of Valentine's Day. To love another is not about living struggle free or never experiencing hurt or loss, but to fully and deeply open our hearts to one another without fear. Each of us is lovable even with all of our differences. Love has no boundaries. May you rest in peace my sweet sweet lady, Norma. ❤️
Norma's health had been in decline but it worsened in recent days.
Salvatore befriended his neighbor and began featuring Norma in his web videos and their relationship grew. He became  a part of her life, and as she began ailing from leukemia and pneumonia, he took the 89-year-old in to his home to care for her.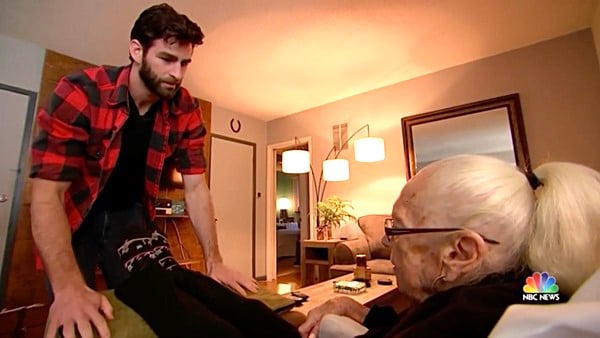 Several weeks ago, the mainstream media took notice of Salvatore's loving gesture, and their uncommon bond.
A GoFundMe page set up to cover Norma's medical costs  raised more than $76,000.
Watch the NBC News' report on Chris and Norma:
Our thoughts go out to Salvatore at this very difficult time.