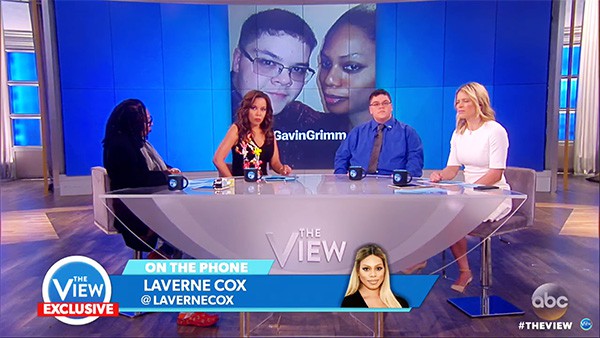 Laverne Cox spoke by telephone and Gavin Grimm appeared Thursday on daytime television talk show The View to discuss Grimm's forthcoming Supreme Court case that will decide the applicability of Title IX protections for transgender students, as well as the Trump administration's recent action to roll back federal guidelines to schools offering such protections.
The joint participation of the two followed Cox's supportive mention by name of Grimm on the Grammy Awards telecast last week. Cox, speaking from Los Angeles, explained her motives:
"A lot of people know more about his story now, so that this young man can come forward with his courage and brilliance and assert his humanity, because ultimately this is about the humanity of trans young people."
Cox said of Grimm that she felt "often in our country's history, it is a person that is not intended to be a symbol or to be famous who has just stood up for what is right who has been chosen." She reminded those listening that the issue of "bathroom access is often not about bathrooms" but about equal treatment. For his part, Grimm said that although his fight began about his individual case, "we're looking to do whatever we can for people who come after me."
With regard to the Trump administration's torpedoing of Obama's federal educational guidelines, both were united in opposition, and were applauded by the hosts and studio audience in doing so. Grimm pointed out that "when you leave decisions on civil rights up to states, it happens for a very long time that people don't have civil rights," while Cox agreed that "this is not a states' rights issues—it is a civil rights issue."
Cox also cited troubling statistics, namely that 77% of trans children experience bullying or harassment in schools while nearly 50% attempt suicide, in highlighting why it is so important to offer trans students the support they need.