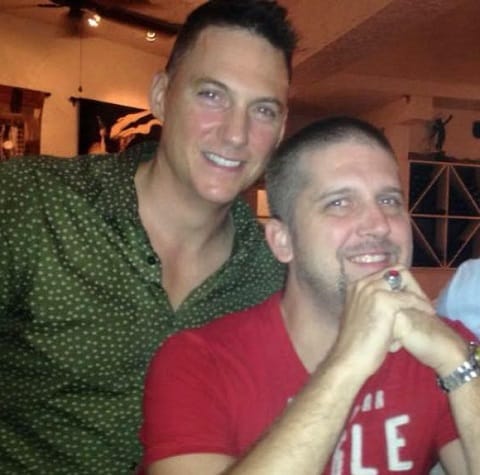 A gay couple was assaulted in Key West last week by a man who shouted gay slurs and said "You live in Trump country now."
Kevin Seymour and Kevin Paul Taylor (above) allege that the man was followed them on a scooter early Thursday and called them "faggots and a slew of other anti-gay remarks."
They say that the man struck the rear tire of Seymour's bike, knocking him to the ground. The attacker told the couple "I bet you faggots voted for that bitch Hillary," adding "Well, you live in Trump country now."
As the scooter followed the couple, Seymour told the man he would call 911. "If you do that, I'll cut you up," the man replied.
Taylor wrote on Facebook:
"We were victims of a hate crime last night biking home from dinner…..He kept stopping in front of us and swerving into us. Finally Kevin got ahead of him and the guy charges him with his scooter and runs into him and knocks him off his bike. Kevin is okay….I think the cops will be able to track him down."
A witness gave a statement to police backing the couple's story and officers said there may be security video available from nearby businesses, reports FLKeys News.
Police described the assailant as a white man in his mid- to late 30s with "a southern accent." He was wearing gray shorts and a blue polo shirt. The moped was a black Eclipse rented from A and M Rentals with the license plate MCUT33.
(Image via Facebook)