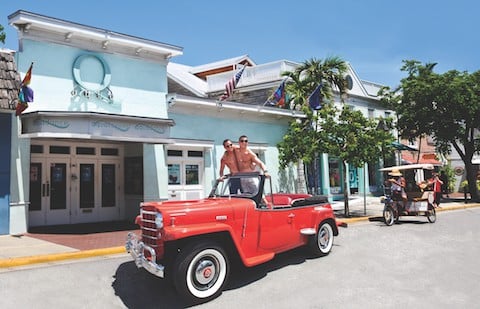 Whether you're visiting Key West for the LGBT history, art, food or something a little more adventurous, there's one thing no vacation is complete without: drinks. The vibrant nightlife in Key West is every bit as unique as the rest of the local culture. Key West's welcoming attitude, great weather and manageable size make it a perfect place to put together a bar crawl that'll take you on a tour of all the scenes the island has to offer. With less car congestion and crowd crush as other Florida destinations, a stroll between Key West hotspots gives you a chance to take in the historic streetscapes between all those vodka sodas.
Below are five of our picks for a night out that'll get you stumbling home wearing a smile (and maybe not much else).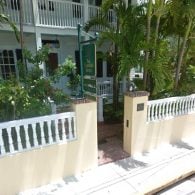 SIP SLOW
Keep it classy while you can. Start your night slow with an early evening DIY wine tasting at D'Vine Gallery (526 Angela St.). You can help yourself to samples for as little as $1.50 per "taste" at this self-serve wine bar inside the Gardens Hotel. Once you find your favorite, grab a bigger swig or a full glass using the same state-of-the-art system. Depending on the day, you could catch live piano or jazz while you drink up.
DIVE IN
For those who like their bars small and smoky, Bobby's Monkey Bar (900 Simonton St.) is a must-see. Belly up to the bar and chat up a bartender or one of the friendly local regulars that frequent the beloved dive. The crowd at Bobby's is mixed gay and straight, but when you're shooting pool (or the breeze) in such a relaxed environment, no one seems to mind.
SEE A SHOW
Once you've knocked back a few cold ones, it's time to sit back and be entertained. You've got a few places to catch a drag show in Key West, but 801 Bourbon Bar (801 Duval St.) boasts the 801 Girls, including the legendary queen Sushi. There are performances at 9 p.m. and 11 p.m., and you can make reservations for the show online. (If you prefer your company more rough and tough rather than plucked and tucked, Key West's leather and Levi's bar, 1 Saloon, is also right next door.)
BE A STAR
If you're feeling inspired, head down to Aqua (711 Duval St.) for some karaoke Monday through Thursday starting at 11 p.m. on the swanky stage. If you're there for one of Aqua's nightly drag performances by the Aquanettes, you'll still get a chance to get in the spotlight, as the folks seated in the dance floor area tend to get accosted — we mean "incorporated" — into the show.
GO WILD
The best place to end your night is the popular video bar Bourbon St. Pub (724 Duval St.), but leave whatever's left of your inhibitions at the door. You'll find naked go-go boys to spare, or toss caution (and your swim trunks) to the wind and hang out at the clothing-optional New Orleans House upstairs. The party rages until 4 a.m. (or whenever your liver quits).