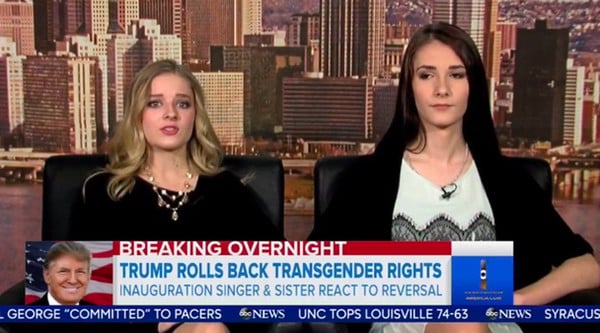 Juliet Evancho, the transgender sister of Trump inauguration singer Jackie Evancho, has won a preliminary ruling in a federal lawsuit regarding bathrooms at a Pennsylvania high school, according to The Hollywood Reporter:
A federal judge on Monday ruled that three transgender students at a Pennsylvania high school can use bathrooms that correspond to their stated gender identities while their lawsuit challenging the school district's policy continues.
The judge said in issuing a preliminary injunction that the three students, including singer Jackie Evancho's sister Juliet, were reasonably likely to win the case on equal protection grounds.
U.S. District Judge Mark Hornak said the Pine-Richland School District north of Pittsburgh has not demonstrated its policy advances an important governmental interest, nor is there evidence that personal privacy is being threatened.
The Evancho sisters made headlines last week after Jackie asked Trump to meet with her sister following his administration's withdrawal of Obama-era guidance to schools protecting transgender students.