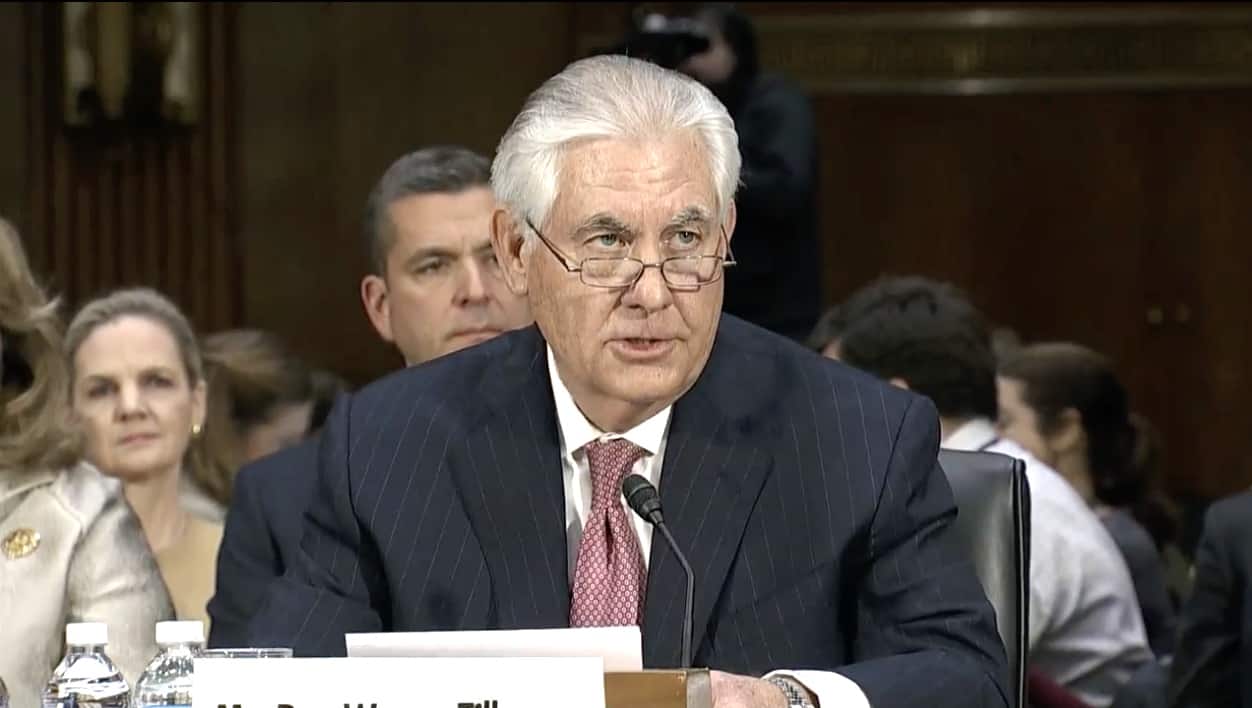 Former ExxonMobil CEO Rex Tillerson was confirmed today as the next Secretary of State.
Tillerson needed a simple majority — 51 senators — for confirmation. The final vote was 56 in favor, 43 against.
Three Democrats voted in favor of Tillerson, including Senators Joe Manchin, Heidi Heitkamp, and Mark Warner. Angus King, an Independent who caucuses with the Democrats, also voted in for Tillerson.
It was Tillerson's contacts with Russia and strongman Vladimir Putin that raised alarms among some Republicans. Among other things, Tillerson was given the Order of Friendship award by Putin.
Rex Tillerson confirmed w/most negative votes (43) ever for Secretary of State nominee.Henry Clay had 14 in 1825,Condoleezza Rice 13 in 2005

— Craig Caplan (@CraigCaplan) February 1, 2017
And this:
https://twitter.com/EXXON_MOBlL/status/826882820299698177?ref_src=twsrc%5Egoogle%7Ctwcamp%5Eserp%7Ctwgr%5Etweet
During his confirmation hearings, Senator Chris Coons asked Tillerson if he believes that LGBTQ rights are human rights, that "gay rights are human rights."
Said Coons
"I believe that LGBTQ rights are human rights, that gay rights are human rights. In a number of meetings with African heads of state, I've advocated for them to push back on actions where they have engaged in preventing people from meeting, from advocating, where they've been physically abused or tortured. I'll never forget a meeting in my office in Delaware with a woman from Zimbabwe who had been given asylum in the United States after being tortured in Zimbabwe because of who she loved. Do you believe gay rights are human rights and is that a piece of our human rights advocacy agenda around the world?"
Replied Tillerson:
"American values don't accommodate violence or discrimination against anyone. That's part of that American values that we project."
When pressed for more specifics, Tillerson shrugged.
Coons continued:
"I was encouraged by your tough leadership moment at the Boy Scouts and I simply wanted to reassert that in my work around the world although not easy or comfortable I think that it is important that we include respect for the whole range of people's relations in our menu of how we define human rights."