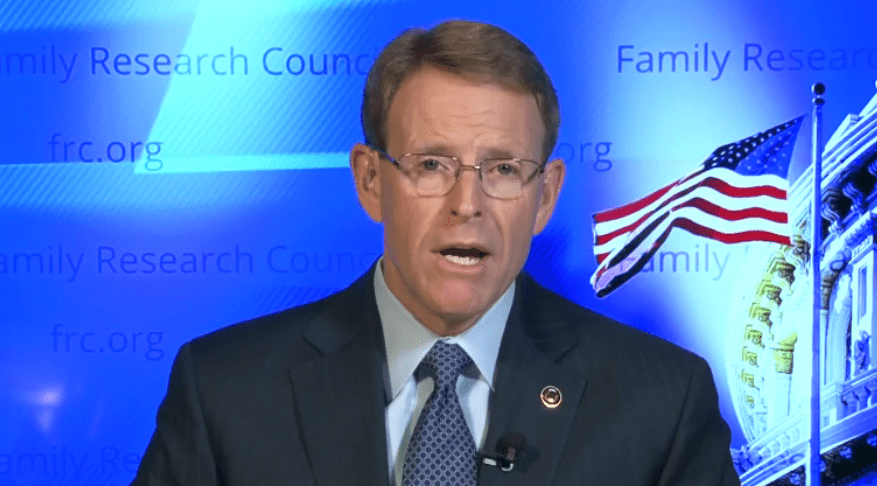 Earlier this week the White House put out a press release saying that President Obama's executive order protecting federal LGBT workers and contractors from discrimination would remain intact.
However, as we noted, that does not preclude some other sort of anti-LGBT order from coming down the pike. For instance, a 'religious freedom' EO meant to satisfy his evangelical base that would not mention LGBT people specifically but would be a license to discriminate for people like Kim Davis, who object to things like gay marriage or gay adoption based on religious beliefs.
Tony Perkins, leader of the Family Research Council, a Southern Poverty Law Center designated hate group, feels quite confident there's still something coming.
"I think this is going to be addressed," said Tony Perkins, president of the Family Research Council. Proponents of "religious liberty" argue that religiously oriented workplaces should be allowed to consider a person's sexual orientation in doing business.
Though he notes that he hasn't "gotten complete clarity," he said, "I have every confidence" that President Trump will act along the lines of a proposal offered previously by Republican Rep. Steve Russell of Oklahoma to exempt "any religious corporation, religious association, religious education institution or religious society" with a federal contract from Obama's directive.
Perkins' adversaries who back gay rights share his expectation.
Winnie Stachelberg of the liberal Center for American Progress said she continues to anticipate an executive order mirroring Russell's proposal, which she said could grant some taxpayer-funded adoption agencies the right to refuse placing children with same-sex couples. "This would be a severe blow to the LGBT community," Ms. Stachelberg said. "A license to discriminate … and a step backward."
And do not forget, Trump has promised to sign the First Amendment Defense Act, which is being reintroduced imminently by its Republican sponsors in Congress, in his first 100 days.
The heinous "religious freedom" bill would shield businesses from action by the federal government if they chose to discriminate against LGBTQ people based on religious beliefs. More here.