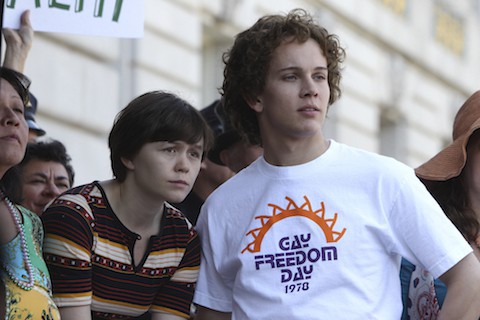 Let's be clear: When We Rise, the four-part miniseries premiering tonight on ABC, should be required viewing. Tracing the LGBT movement from post-Stonewall through marriage equality, the sprawling series manages to depict decades of struggles throughout its eight-hour runtime.
Mostly written by Dustin Lance Black (Milk), When We Rise is an ambitious piece of television. Addressing Harvey Milk, the AIDS crisis, marriage equality and more is a tall order, even across the duration of four feature-length films. Considering the breadth of material, When We Rise manages to pack in a slew of milestones that build toward a more comprehensive (if not completely successful) portrait of the LGBT rights movement.
https://www.youtube.com/watch?v=UwvgMNE9ozg
When We Rise wisely grounds all the historical context in three core characters. The first is activist Cleve Jones, portrayed in the early installments by Austin P. McKenzie. Arriving from Arizona to escape his conservative father (David Hyde Pierce), Jones' story is the crux of the narrative. (The series is informed by Jones' memoir of the same name.)
Unlike Hollywood's last stab at queer history, When We Rise seems a bit more conscious of intersectionality, splitting its time between the interweaving stories of Cleve Jones, Ken Jones (a Vietnam vet turned activist who fights back against homophobia, racism, HIV-stigma and addiction) and women's rights leader Roma Guy (brought to the screen in a memorable TV debut from Fun Home's Emily Skeggs).
Trans activist Cecilia Chung is also a prominent figure, played here by Ivory Aquino. It certainly doesn't mean every experience is reflected, but the series doesn't shy away from the kinds of tough questions and challenges facing any diverse movement, whether that be acknowledging the pervasive racism in the gay community, the homophobia in the women's rights movement or lesbian separatists wary of gay men's involvement.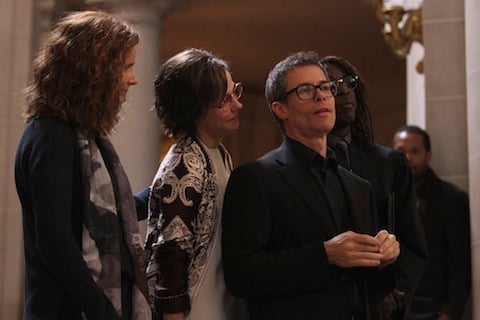 The second half of the series ages the characters significantly, requiring older actors Guy Pearce (Cleve Jones), Michael K. Williams (Ken Jones) and Mary-Louise Parker (Roma Guy) to step in. It's a jarring transition at first. Then again, When We Rise doesn't exactly deal in subtlety. Often, the breakneck pace reduces some important touchstones — Matthew Shepard's murder, Obergefell v. Hodges, for example — to footnotes. No wonder there's little time to smooth out the characters' individual journeys.
And yet, despite its blunt delivery, the film doesn't fail to deliver some emotional wallops. At a time when LGBT people are still facing enormous adversity and mounting institutionalized discrimination from the radical right-wing, When We Rise's message feels particularly urgent. As many of us are feeling a renewed sense of inspiration, learning from these bold early organizers puts the power of passion into perspective.
When We Rise begins tonight at 9 p.m. Eastern on ABC. It continues Wednesday, Thursday and Friday.