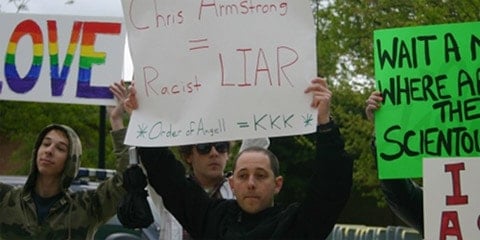 Former Michigan assistant attorney general Andrew Shirvell has been disbarred as a result of the anti-gay harassment in 2010 of Chris Armstrong, a gay college student and student leader at the University of Michigan.
In addition to demonstrating on campus, Shirvell published a blog, the Chris Armstrong Watch, where he accused Armstrong of being a Nazi as well as a recruiter for 'the cult that is homosexuality.'
Andrew Shirvell's disbarment was ordered Thursday, March 30, by a panel at the Attorney Discipline Board, according to the AP. He can appeal to the full board.
In October 2016, the Michigan Attorney Discipline Board said the former state assistant attorney general committed misconduct when he harassed Christopher Armstrong, the university's first openly gay student body president. Shirvell was fired in 2010.
In 2012, a jury found Shirvell had stalked, defamed and invaded Armstrong's privacy and Shirvell was ordered to pay $4.5 million.
The U.S. Sixth Circuit Court of Appeals upheld the judgment against Shirvell in February 2015.