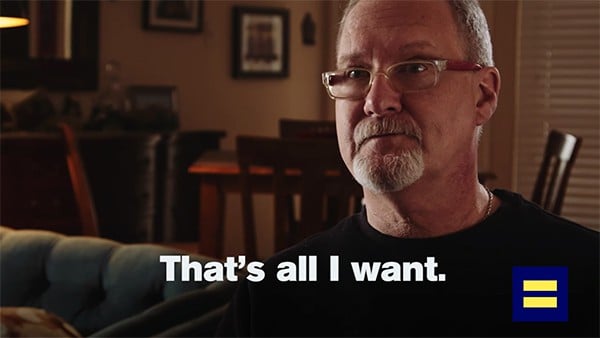 The Human Rights Campaign has highlighted the plight of a gay couple who are engaged to be married but whose plans are on hold while the Trump administration's travel ban takes effect.
Paul Harrison is a Texas man who since 2015 has been in a long-distance relationship with an Iranian man, whose identity must be concealed due to Iran's draconian laws outlawing homosexuality. Their romance has played out largely in neighboring Turkey, which, despite a worsening climate for LGBT individuals, still remains more open than Iran.
Harrison's fiancé had been slated to join him over the next few months, but Iran is one of six Muslim-majority nations whose citizens have been arbitrarily barred from entering the United States for at least 90 days, in a reissued ban following an earlier chaotic and poorly-conceived executive order blocked by the courts. While the latest order attempts to be more streamlined, drops an explicit religious test and excludes Iraqi allies, its fate in the judicial system remains to be seen. The ban comes into force March 16.
"Initially I became sick to my stomach. The nausea passed and I became angry and defiant. My fiancé was just in disbelief and denial that this could be happening," Harrison remembered. "The 2.0 version of the ban still makes me feel very uneasy. I feel that Muslims are being targeted in general, and Iranians in particular.
He asks me every day, 'Is my visa going to be okay?' We're racing against time, but at the same time we can't really race. I just want him here and I just want to keep him safe."
Harrison is now overseas working to help secure a visa for his fiancé. Given the implicit bias against the six banned countries, it is unclear whether their efforts will be successful. It is also not yet certain to what extent federal agencies will go to facilitate same-sex unions under this administration, especially since it has entertained anti-LGBT draft executive orders already, while the Departments of Homeland Security (DHS) and Immigration and Customs Enforcement (ICE) are focused on kicking people out rather than letting people in.
Watch Harrison discuss his situation here: