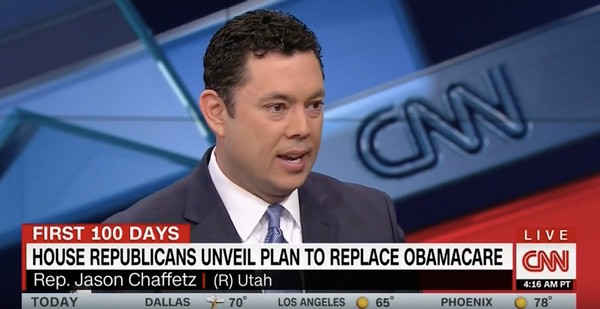 Rep. Jason Chaffetz acknowledged that the Republican plan to replace Obamacare would result in less coverage.
"More access but possibly less coverage, that might be the byproduct," said CNN's Alisyn Camerota.
"Yes. Yes, I think that's fair," responded Chaffetz.
Said Chaffetz: "Americans have choices and they've got to make a choice and so maybe rather than getting that new iPhone that they just love and they want to go spend hundreds of dollars on that, maybe they should invest it in their own healthcare. They've got to make those decisions themselves."
The legislation would scrap the healthcare law's individual mandate and repeal most of its taxes and regulations. People would be given a tax credit, based on their age, to help them afford insurance.
The GOP's plan would also phase out ObamaCare's Medicaid expansion, which now covers more than 10 million people. Pelosi argued that the measure would disproportionately harm all but the wealthiest Americans.
Watch:
https://www.youtube.com/watch?v=zOOHXUOIaqk
Meanwhile, Nancy Pelosi blasted the plan:
"This will make millions of people — it's a question of 10, 15, 20 million people — off of having health insurance. It will be the biggest transfer of wealth from low and middle income people to wealthy people in our country…Show us the numbers as to how many people will be thrown off. It couldn't be worse."
"Couldn't be worse." — @NancyPelosi reacts to new GOP health care plan

WATCH: pic.twitter.com/a3FAa4lRwl

— CBS Mornings (@CBSMornings) March 7, 2017