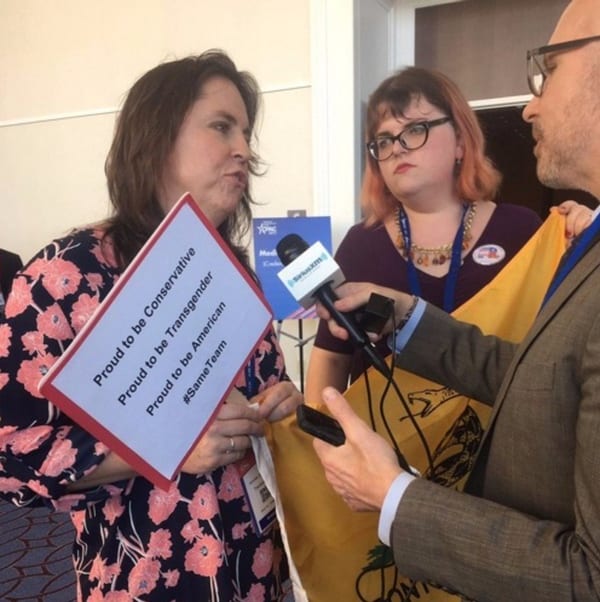 At CPAC, Michelangelo Signorile spoke with two proud conservative transgender activists who are disappointed with Trump but still want to be part of a party that hates them.
Jennifer Williams, left, wore a floral top designed by Ivanka Trump.
"I wanted to believe [Trump]," she repeated in an interview with me on SiriusXM Progress at the annual gathering of conservative activists at which both President Trump and Vice President Mike Pence spoke. "I mean, he was doing things no other Republican candidate has done. Even on the trail, he was doing things that I thought, well, that even if he was doing it for political capital, he was creating a conversation. I was afraid of Mike Pence but Trump strikes me as the kind of guy — he's a strong CEO. But what happened yesterday [with the Trump administration rescinding guidelines the Obama administration put in place to protect transgender students], that was the litmus test. I was giving him a chance to kind of prove me wrong on this particular issue, and he failed."
Evans, who described herself as a libertarian, is a veteran of CPAC. But this was the first time she "came out authentically," and she said it "went surprisingly well and exceedingly well."
She stood in front of the main ballroom with Jennifer Williams, a New Jersey trans woman, also a CPAC veteran, who held a sign that read, "Proud to be Conservative, Proud to be Transgender, Proud to be American, #SameTeam," as well as a Gadsden flag, which has become the symbol of the Tea Party movement in recent years. This was the second year Williams has attended CPAC as openly transgender.
Listen:
[soundcloud url="https://api.soundcloud.com/tracks/309416266″ params="auto_play=false&hide_related=false&show_comments=true&show_user=true&show_reposts=false&visual=true" width="100%" height="450″ iframe="true" /]