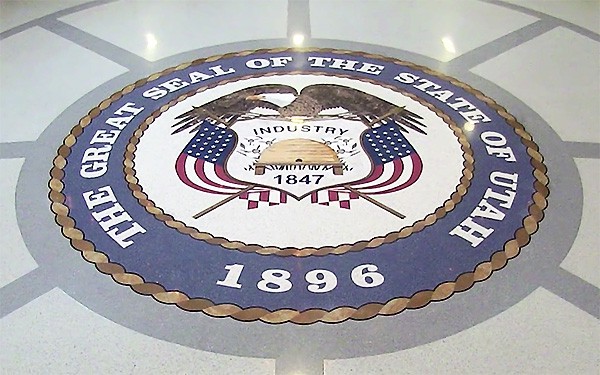 Lawmakers in Utah's Republican-heavy state legislature have overwhelmingly voted to repeal an embattled law that prohibits teachers from addressing or "promoting" homosexuality and now await GOP Governor Gary Herbert's expected signature.
Their action comes in the wake of legal action by LGBT-advocacy organizations Equality Utah and the National Center for Lesbian Rights, who faulted the law for disallowing discussion of the legalization of same-sex marriage and created an intimidating, unwelcoming atmosphere for LGBTQ students. The law, derisively called "no promo homo," was taken off the books by a margin of 24-1 in the Senate and 68-1 in the House of Representatives. The development was warmly acknowledged by Equality Utah:
"This is a historic day for LGBTQ students in Utah," Equality Utah executive director Troy Williams said. "We commend [bill sponsor] Senator Adams and the Utah Legislature for recognizing that LGBTQ students should be treated with the same respect and dignity as straight students. The removal of discriminatory language from school curriculum will send a positive message that all students are valued in Utah."
In a state previously associated with anti-LGBT actions such as funding Proposition 8 efforts in nearby California, this positive move comes along with others recently such as the passage of an expansion to the state's nondiscrimination laws to include sexual orientation and gender identity.
However, the phenomenon of anti-LGBT education laws remains a troubling one in several other states, according to LGBT advocates, who may even underestimate the problem:
Although LGBT rights advocates frequently claim that eight states (including Utah) have "no promo homo" or "don't say gay" laws, such legislation has been narrowly defined as laws that keep teachers and districts from addressing issues related to gender identity or sexual orientation in the classroom. But there are other ways that school policies can leave out LGBT students. [University of Utah law professor Clifford] Rosky said 20 states have anti-LGBT language in their curriculum for kindergarten through grade 12.
"The issue is twice as big as people realize," claimed Rosky, who has penned an upcoming survey for Columbia Law Review on the subject.
"More than 25 million children — nearly half of all school-aged children in the United States — are attending public schools in these 20 states," Rosky wrote in the appropriately titled "Anti-Gay Curriculum Laws." "In half of these states, teachers are affirmatively required to teach anti-gay curricula in all public schools. In the other half, teachers may choose between offering students an anti-gay curriculum or providing no health, sex, or HIV education at all."
These policies have an especially harmful impact on LGBT students. Andrew Peters, the state policy manager for Gay, Lesbian, & Straight Education Network, claimed that with such policies kids are more likely to hear homophobic remarks in school or to be bullied by other students. As a result, these kids report higher rates of depression and drug use, while experiencing lower self-esteem and performing more poorly in school. Because students in "no promo homo" states are less likely to report harassment they face, it can be harder for educators to support them — if they're even permitted to do so.
"It's so important that students are able to learn in an environment that affirms their identity," Peters said. "These laws say to students that they are not accepted and that they are invisible."