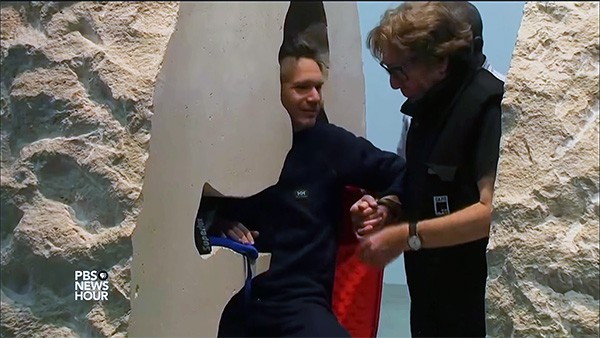 French performance artist Abraham Poincheval put the bed in bedrock by spending a week inside solid rock, from which he emerged earlier this month.
The stunt took place in the Palais de Tokyo museum in Paris, beginning on February 22, with the artist's stated goal of "becoming the beating heart of a massive boulder." Within a specially-carved cavity in the shape of his body, Poincheval was encased in a boulder punctured slightly with minuscule holes for air and surrounded by containers to store bodily waste, with access to water, as well as soups and dried meats for food.
Poincheval came forth triumphantly on March 1, declaring that, "I thank it [the stone] very much for having been so enthusiastic about welcoming me, and I think that it took great care of me."
He later described the experience:
"It's this strange feeling of a floating world, an incredible floating in this mineral capsule," Poincheval said. "There are very strong moments of getting dizzy, where the world is shaking monstrously.
"It's a moment of happiness, it's a gift," he added, "but at the same time one must stay clear-headed. There are very strong moments where you lose yourself, where suddenly you don't know anymore where you are."
It may be disorienting, understandably, but he also says sitting inside a rock for days on end is not as lonely an experience as you might expect. In an interview with Agence France-Presse a few days ago, his voice muffled by the layers of stone between himself and his miked-up interlocutor, Poincheval explained that the sounds of the museum's patrons actually helped him tell time.
It was the patter of feet and the chatter of voices that told him it was day; "otherwise, I have no particular sense of day or night or anything like that," he said.
What's more, "people seem to be very touched. They come and talk into the crack, read poetry to me, or tell me about their nightmares or their dreams," he told the Guardian.
Museum patrons were able to view Poincheval himself on a television monitor the entire time via a camera set up within the rock.