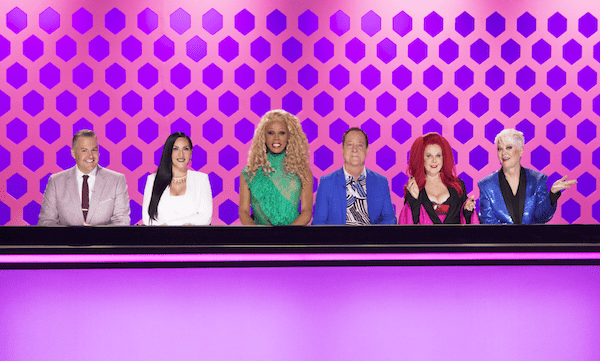 You know what really kills the excitement of Drag Race returning? The interminable number of early episodes featuring massive group challenges.
This week the gals tucked their pom-poms and did the splits in a cheerleading-themed challenge. Because you know what gay men love? Reliving high school sports.
But before we get our bloomers in a bunch, there's a few small orders of business to handle. Last week ended on a cliffhanger with a promised 14th queen joining the competition. Who's the lucky lady getting a second chance? It's Miss Cucu herself, Cynthia Lee Fontaine! The high-energy Puerto Rican queen didn't last long enough to make it to Snatch Game in season 8, but she left enough of an impression on audiences to earn the title of Miss Congeniality. She's been battling Stage-1 liver cancer, but is happily now in remission.
And speaking of comebacks, back in the workroom, the queens get a very special visit from Lisa Kudrow. She's not there to judge or to coach or really do anything by spout off a couple of catchphrases before making a much too quick exit. What a waste.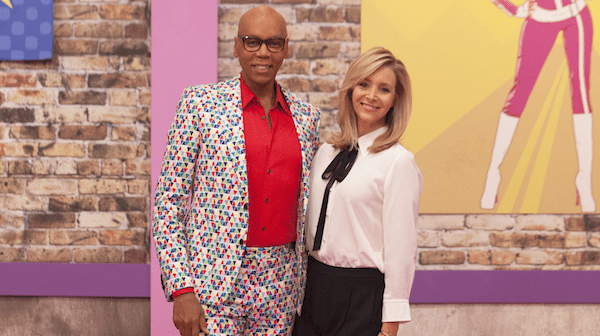 Ru names Cynthia Lee Fontaine and last week's winner Nina Bo'nina Brown as team captains of The B-52 Bombers (named for this week's guest judges) and RuPaul's Glamazons, respectively. They'll need to perform a character-heavy opening number, do some flips and aerials and have an all-out cheer battle with the opposing team.
The stunts actually seem hard to do. Good thing they have cheerleading champ (and Travis Wall's partner) Dom Palange to guide them. RuPaul's Glamazons (Alexis, Sasha, Shea, Nina, Charlie, Aja, and Jaymes) have a tougher time than their competitors. Throughout the rehearsals Jaymes struggles to nail her character or timing, and her teammates' obvious lack of confidence in her shakes her even more.
The performance itself is almost too overwhelming to follow. Valentina surprises the other queens by stealing the show despite being the last picked. Shea nails the tumbles and slays the white party-themed runway. A lot of the gurls get lost in the shuffle, but Kimora and Jaymes stand out for all the wrong reasons. Kimora is a bore in the cheer, and on the runway, she serves us tacky nautical Americana instead of white party glamour. And, well, Jaymes? She's in way over her wig.
Which queens brought it on and which were just stuntin'? Find out in our rankings below, and remember this is a cheertatorship, not a cheerocracy, so it's al subjective.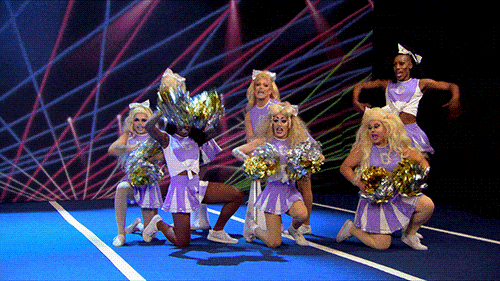 1. Shea Coulee continues to impress. Not just in the challenge and runway, but her attitude. Like Bob before her, she just seems to get this whole competition. I was gagging on her runway look, and I am eating up everything she's serving.
2. In a way, it's a good thing we didn't see some more of Nina's off-the-wall presentations. She gave us a white party ensemble that satisfied the challenge with style without flaunting the parameters to satisfy her own aesthetic. Points for versatility (which matter a lot in this competition), but I still missed Nina at her most unhinged.
3. OK, I'm not too proud to admit when I was wrong. This week's episode made me a believer in Valentina. She was the star of the cheerleading routine, and she looked stunning on the runway. Maybe 10 months is all this gal needed to unleash her star power. I'm not ready to hand her the crown yet, but consider me impressed.
4.  You can't say Eureka isn't giving it her all. She rah-rah-boomed with the same stamina as girls a fraction of her size. For a pageant queen, I admire her bold fashion choices, particularly the edgier wigs. Hell, I'd keep Eureka around just for her priceless reactions when a guest judge appears.
5. We didn't get a lot of Sasha this week, but what we saw held my interest. She wasn't afraid to be silly during the cheer challenge, though I thought her white party ensemble was a little staid.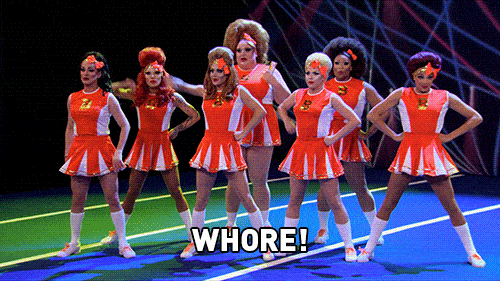 6. The middle of the pack really blended together this week. Peppermint still has a big piece of my heart, which nearly tripled in size tonight hearing about how she weathered a brutal attack in high school with the support of the other students. Her runway look was part Queen Elsa, part Auntie Entity, all fab.
7. Good on Alexis for rolling with the punches as she and Jaymes swapped parts back and forth. She sort of oversold just how much "acting" was really necessary in this challenge, and the runway was glamorous, but felt like a frostier take on Gaga at the Globes.
8. Look, I'm very happy Cynthia Lee Fontaine is healthy, but that doesn't mean I'm glad to have her back. Truthfully, I wasn't a fan of her manic schtick the first time around, and I don't find it much more charming now.
9. When it comes to this week, Aja was … there. Not much more to say. She wanted that face mask to give us silenced Illuminati princess, but all I got was a face full of someone's jockstrap and a cheap-looking wig.
10. I wasn't nearly as impressed with Trinity as she seems to be with herself. I also didn't love the labial cyber babe look she walked down the runway.
11. Farrah: Who?
12. The same criticism lobbed at Jaymes goes for Charlie as well. If you're supposed to be a comedy queen, give me comedy. This is the second week we saw some eleganza, but not a laugh to be found.
13. Kimora's limitations are starting to show. There's nothing but sex to be seen. I wouldn't have been upset if that lip sync sent them both home. If she were performing to the Pussycat Dolls or Ariana Grande, she'd slay, but the B-52s required a little more punky, campy energy. I get that sex is her strength, but she's got to give us some variety.
14. Everything the judges said about Jaymes was spot on. Even though I felt her lip sync was better suited to the track, I agree that her drag character isn't quite fully baked. Sweet gal, but not America's Next Drag Superstar.
How would you rank the queens?