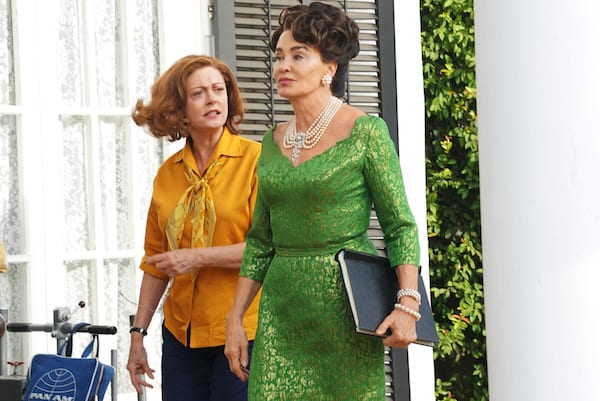 With only one more episode left in this season of Feud, Bette and Joan's rivalry appears to have reached its climax. For all the mudslinging that plagued the production of What Ever Happened To Baby Jane?, the battles waged on the set of Hush… Hush, Sweet Charlotte are just as intense.
Now, we see the roots of their rivalry laid bare. Yes, the industry may have stoked the fires of their feud, but their genuine, deep insecurities were fertile ground for the seeds of resentment.
Both Bette and Joan played their most powerful cards on Charlotte, but would such shock and awe campaigns yield either icon a decisive victory? Or has this been a kamikaze mission for the starlets all along?
Let's assess the damage done in our recap, below.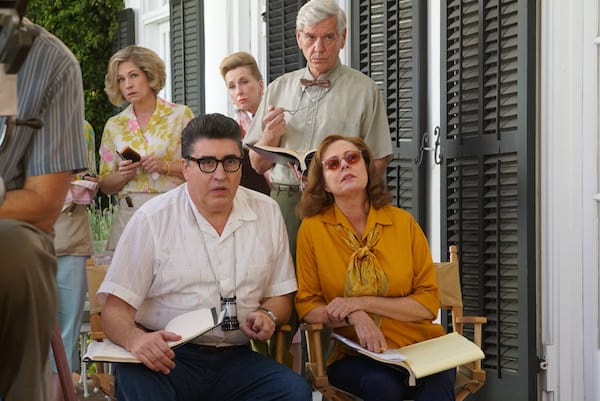 After arriving in Louisiana to no car waiting at the airport and struggling with check-in, Crawford appears to have risen above these minor slights. She films her character's arrival in one magnificent take. But Bette's popularity among the crew, her late-night partying with Bob and the cast, and especially her unsolicited feedback on Joan's performance take their toll on Ms. Crawford.
Of course, unbeknownst to Joan, Bette is a producer on the film, a fact only made known to Joan while confronting Bob in her trailer. She explains to him what might be the central driving force in Joan's obsession with besting Davis: She didn't get her start in theater, like Bette; she got her start shaking her fringe in nightclubs, getting scotch spilled on her dress. It's a stain she feels like she always has.
But Bette is hurting, too. In a drunken stupor she confesses to Bob after her first screen test with Jack Warner, she heard him remark that no one would ever want to sleep with her. (He obviously said it in much less sensitive words.) He even, allegedly, said he wished she looked more like (who else?) Joan Crawford.
Their simmering tensions boil over after Bette dismisses Joan from set one afternoon. Seeking refuge from the hot, Louisiana sun, Joan takes a siesta in her trailer. During her catnap, day has turned to night and the crew has all packed up and headed back to the hotel, leaving a bewildered Joan with no one but Mamacita to take her home.
Joan marches to Bette's room and calls her out for deliberately sabotaging her on set. The two trade insults, but their final exchange is perhaps their most telling:
Bette: Joan, how did it feel to be the most beautiful girl in the world?
Joan: It was wonderful, the most joyous thing you could ever imagine, and it was never enough … What about you? How did it feel to be the most talented girl in the world?
Bette: Great, but it was never enough.
There isn't a more perfect scene to sum up the entirety of Bette and Joan's relationship.
With filming wrapped in Baton Rouge, production moved back to a Los Angeles soundstage. On the way back, Joan gets a look at some script revisions, drastically cutting down her lines. It's the final straw. Instead of heading home, Joan checks into the hospital.
Crawford's sudden, ahem, "illness" has halted production, not that Bette doesn't have plenty to keep her occupied. Her daughter B.D. wants to get married. The only problem is that B.D. is only 16, so she needs her mother's consent. After initially refusing, Bette agrees, but only if she can plan the wedding.
It's not until days later when Bette is deep into wedding planning that B.D. reveals that she already tied the knot with her now-husband as soon as she got Bette's signature. All this pomp and wedding chimes are merely for Bette, not for B.D.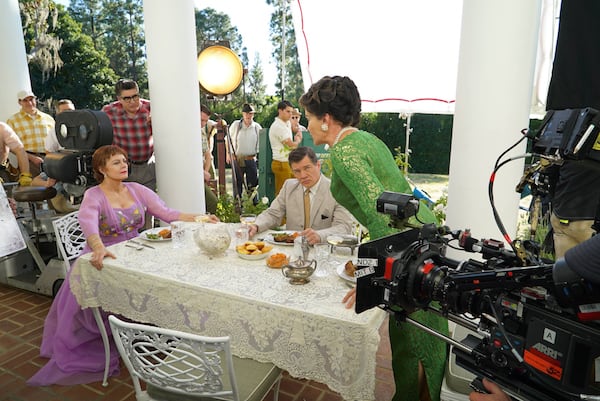 She has more luck conquering Crawford. After a threat from Bob Aldrich in the hospital, Joan maintains her mysterious illness. Eventually, the studio offers to release Joan from her contract, but Joan doesn't want out, she wants to punish Bob, Bette and everyone else working on Charlotte. She agrees to see a studio-appointed doctor, but once seducing him fails, the doc gives her the all-clear.
Still, Joan won't budge. She receives a letter threatening legal action for breach of contract, but she's convinced no one would ever take the part after her, so the film will be forced to shutdown, putting Bob and Bette out of money as well. If she's going down, they're going with her.
Of course, there IS an actress willing to step into Joan's role on Charlotte: Bette's bestie Olivia de Havilland.
Joan hears the news on the radio in her hospital room. Enraged, she throws a vase of flowers right by Mamacita's head. Mamacita had warned Joan once before: If she threw something at her head again, she was out. So, Mamacita picks up her purse and leaves a sobbing Joan crumpled on the hospital floor.
And, just to rub more salt in the wound, Bette, Bob and Olivia pose victoriously on set with some ice cold Coca-Colas.
Best Barbs:
"Oh, she's out catching groundhogs to replenish her wig supply. You have to catch them in the dead of night." — Bette
"Beauty fades, just wait. And it did." — Bette
"I guess that explains my 11 Oscar nominations." — Bette
"The Academy doesn't reward you for your talent, for Christ's sake, Bette, they reward you because they see how hard you sweat. They don't see the character, they see the acting." — Joan
"And they don't see you at all because of all your glamour makeup." — Bette
"Let me give you a tip: The answer to feeling unattractive isn't to make yourself even uglier." — Joan
"Don't sweet talk me, bub. That English accent might thrill the little girls but it does nothing for me. I played Elizabeth the First, twice." — Bette
"I suggest you put down your f*cking script, and pick up your f*cking contract and give that a close f*cking read." — Bob Aldrich
"Your first wedding is the one you remember the most." — Bette
"I don't do bitches, they make me so unhappy. You should call my sister." — Olivia de Havilland
Round 6 goes to: Bette. Joan may have the more powerful punches, but Bette is able to land her blows while still maintaining most of her dignity.
What did you think of the penultimate installment of Feud: Bette and Joan?