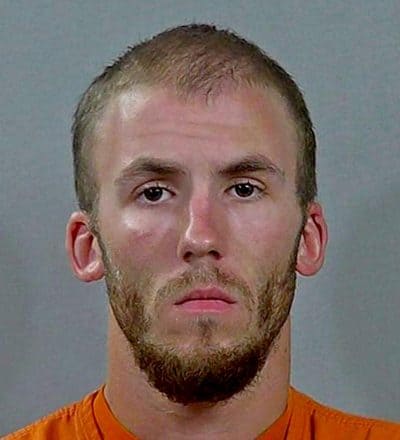 Kelly Schneider, the Idaho man who with three others left 49-year-old Steven Nelson in the woods to die after stripping him, kicking him with steel toed boots at gunpoint, and stealing his car, has been sentenced to 28 years to life in prison.
Nelson's family was in the courtroom at the sentencing, the Idaho Statesman reports:
"You want to talk about impact on our lives?" Edgar Nelson asked 3rd District Judge Thomas J. Ryan. "I don't know where to start. After 49 years, his prints are in our lives and in our hearts everywhere."
Steven Nelson died after he responded to an online ad promising a sexual encounter. He was instead attacked by Kelly Schneider, who yelled homophobic slurs while kicking him repeatedly with steel-toed boots, then stripped and robbed him in the pre-dawn darkness near Gott's Point, prosecutors have said.
The critically injured man walked, naked and without shoes, for about a half mile after the April 29 assault to reach a house and get help. He died several hours later at a hospital but was able to provide Canyon County sheriff's investigators with detailed information that helped identify his attackers.
The Idaho Press-Tribune reported in May 2016:
Nelson had responded to an ad in the male escort section of the website Backpage that later turned out to be only a ploy, according to police.
The ad showed a heavily tattooed man with his face covered. The tattoos later helped identify Kelly Schneider, the suspected primary perpetrator. Nelson met Schneider at the Wal-Mart at Roosevelt Avenue and Middleton Road in Nampa and drove him to Gotts Point, where Nelson requested sex from Schneider in exchange for money, according to probable cause affidavits.
Another man later arrived at Gotts Point with what Nelson told police was a rifle. Two others also showed up and attacked him, kicked him and stripped him of his clothes and wallet, according to the court documents. The men took Nelson's car and left him naked and alone to die.
Kelly Schneider, Jayson Woods and Kevin Tracy, all of Nampa, and Daniel Henkel, of Wilder, all appeared in court Monday on charges of first-degree murder, robbery and other charges in connection to Nelson's death.
After parking and exiting the car, [Deputy Prosecutor Chris] Boyd said Schneider threw Nelson to the ground and kicked him repeatedly.
"The others are alleged that he's the one who met with him, he's the one who kicked Mr. Nelson over and over again, with steel-toed boots," said Boyd, "He's the one, who in a very depraved fashion, took his clothes, his wallet, took his keys and left him literally naked out in 30 degree weather early in the morning. "
According to court documents, Tracy told investigators that Schneider kicked the victim about 30 times while he was on the ground. The suspect told police Nelson begged them not to kill him, and offered Schneider his credit cards and PIN number if they let him go.
Henkel and Schneider were later captured on surveillance tape using Nelson's card to withdraw $123 from the Albertsons at 12th Avenue and Greenhurst Road. The money was later divvied up among the suspects, according to court documents.
Nelson, who had broken ribs and was bleeding from the ear, walked to a nearby home, where residents called 911. He was transported to a local hospital, where he died of cardiac arrest a few hours later.
The victim was able to tell police what happened and described the man shown in the Backpage ad before his death.
Schneider was the ringleader of the group.
A codefendant, Jayson Woods, is scheduled to be sentenced Tuesday. Kevin Tracy and Daniel Henkel, who have both pleaded guilty, were accused of hiding nearby during the attack in case Schneider needed backup. Tracy's sentencing hearing is set for April 24; Henkel's is May 1.