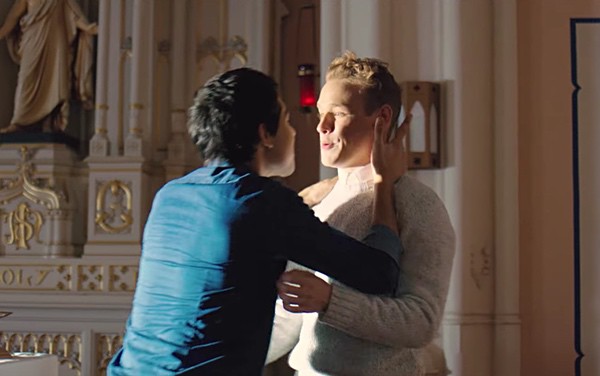 Christian rocker Trey Pearson, member of the band Everyday Sunday for the last 16 years, came out last May after years struggling to reconcile his faith with his sexuality.
Last week he delivered the first fruit of his solo project, a track and video called "Silver Horizon".
For the video, Trey reached out to Stephen Cone, who wrote the movie Henry Gamble's Birthday Party. The film centers on a 17-year-old preacher's son who's coming to terms with his own sexuality, themes that Trey felt connected to for obvious reasons. Stephen and Trey teamed up for the music video, which portrays two young men professing their feelings for another with a grand kiss in front of a church packed with people, all of which break into cheering when the duo lock lips.
"With his story we wanted it to be sweet and inspiring and a love story of sorts," Trey says. "And to also to show that there are more and more open and affirming churches out there and that the world is changing … Then I think, obviously, with sort of my story in there, seeing that new beginning for myself was really powerful. I loved the way that it came together."
Watch: