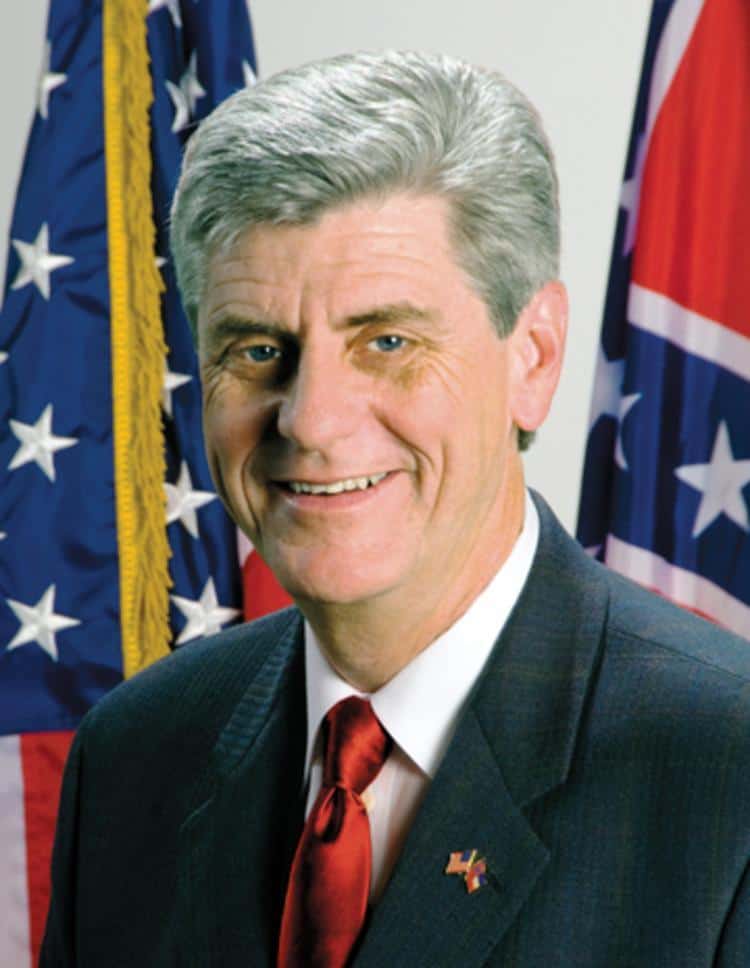 The three judges from the 5th U.S. Circuit Court of Appeals yesterday heard arguments relating to Mississippi HB 1523 which would have allowed discrimination against LGBT people based on religious freedom.
After the Mississippi Legislature passed the law in 2016, a federal district judge ruled that it unconstitutionally establishes preferred beliefs and creates unequal treatment for LGBT people, and approved an injunction preventing it from taking it effect.
Championed by Republican Governor Phil Bryant (above), HB 1523 specifically would allow clerks to cite religious objections to recuse themselves from issuing marriage licenses to same-sex couples and protected businesses which refused services to LGBT people. According to ABC News, it could also affect adoptions and foster care.
The appeal against the stay is being handled by anti-gay litigation group the Alliance Defending Freedom (ADF) which also had a hand in writing the law. Mississippi Democratic Attorney General Jim Hood declined to appeal.
Kevin Theriot, an attorney with ADF, said:
"We made arguments to the court that this particular law does not impose anything on the plaintiffs. It actually protects people who don't want to fear government discriminating against them because of their beliefs."
"It is a good law, added Theriot. "It is an accommodation of religious convictions, and we have a long tradition of that in this country."
Robert McDuff, an attorney for some of the people who sued to block the law, said he hopes the appeals court will affirm the original stay.
"The fact that we were able to stop this bill from going into effect last summer was itself a great victory," said McDuff. "Many Mississippians came together in opposition to this bill."
Lambda Legal released a statement following yesterday's arguments:
Mississippi civil rights attorney Rob McDuff, along with Mississippi Center for Justice and Lambda Legal, today argued before the U.S. Fifth Circuit Court of Appeals that it should leave in place a federal district court injunction against House Bill 1523, Mississippi's discriminatory anti-LGBT legislation. The law was enacted last April in defiance of the U.S. Supreme Court's decision granting marriage for same-sex couples nationwide. Last June, federal district court judge Carlton Reeves of Jackson issued a preliminary injunction preventing HB 1523 from taking effect.
HB 1523 sets forth a wide-ranging list of discriminatory actions that government officials and private businesses, individuals, and some types of medical and social service providers can take against Mississippians based on religious and so-called "moral" objections to the existence of transgender people, marriages of same-sex couples and non-marital sexual relationships. Under the law,  businesses have the right to turn away same-sex couples for wedding services, the state cannot stop foster care providers from condemning and harming LGBT foster children in their care, and some types of health care providers can deny services to LGBT and unmarried people without consequence from the state or any its departments.
"One of the most aggressive and sweeping anti-LGBT measures in the nation, HB1523 doesn't even try to mask its explicit attempt to legalize LGBT discrimination and segregation. It is an attack on same-sex couples and transgender people, made in the name of religious and 'moral' beliefs," said Susan Sommer, Director of Constitutional Litigation at Lambda Legal. "Our clients have already seen heightened discrimination and harassment fueled by passage of HB 1523. This law should not be allowed to take effect and expose already vulnerable LGBT people in the state to yet more abuse. We are hopeful the Court will see this law for what it is — a green light for discrimination — and continue to block HB 1523 from taking effect."
"This law gives special rights to adherents of one set of religious beliefs above others, allowing them to discriminate unfairly without any consequences from the state. That's unfair and unconstitutional. By promoting discrimination in the name of religion, HB 1523 violates both the First and the Fourteenth Amendments," said Mississippi civil rights attorney Rob McDuff.
"Our plaintiffs come from across the state representing a broad swath of the many thousands of Mississippians who oppose HB 1523," said Beth Orlansky of the Mississippi Center for Justice. "People of different faiths, races, sexual orientations, ages, gender identities and marital statuses are standing together demanding to be treated just like everyone else."
"As a Christian minister, I respect all faiths, but religion should never be distorted as a tool to hurt others," said Rims Barber, the named plaintiff in Barber v. Bryant, and the minister who in 1970 married the first interracial couple in Mississippi since Reconstruction. "This isn't the first time Mississippi has tried to ignore U. S. Supreme Court decisions. Three years after Loving v. Virginia, the couple I married had to fight in federal court before the state would allow them to marry. Mississippi wasn't allowed to stand in the way of equal treatment then, and it shouldn't be allowed to do the same today through HB 1523."
The 12 individuals and the church that are plaintiffs in Barber v. Bryant comprise a broad cross-section of Mississippians opposed to HB 1523 –ministers, LGBT residents, community leaders and activists. The lawsuit argues that HB 1523 violates the Establishment and Equal Protection Clauses of the U.S. Constitution.