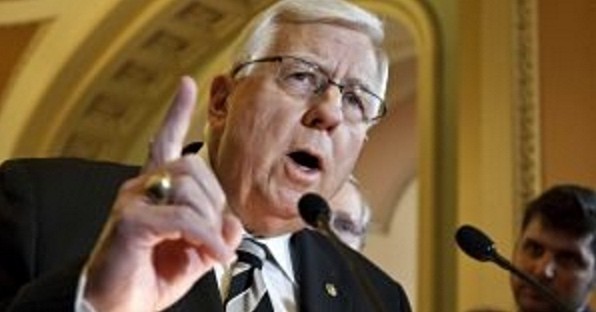 Senator Mike Enzi apologized to a man he referenced in remarks last week when he suggested that LGBT people who dress outside the norm are "asking for" physical violence.
In Enzi's remarks, made to a group of middle-and-high school students, he referred to a man in his town who wears a tutu out to bars.
Said Enzi:
"We always say that in Wyoming you can be just about anything you want to be, as long as you don't push it in somebody's face. I know a guy who wears a tutu and goes to bars on Friday night and is always surprised that he gets in fights. Well, he kind of asks for it. That's the way that he winds up with that kind of problem. I'd be interested in any solutions that you have for how we can make that work better."
Enzi on Thursday called the man, Larry "Sissy" Goodwin, and apologized, the Casper Star Tribune reports:
"We had a nice conversation," he said. "He offered an apology and I have no doubt to believe it was genuine. He was very genuine with his comments. I think we had a respectful dialogue. If anything comes out of this, we both agree that it's opening a discussion and illuminating the issues to the benefit of everyone concerned."
Enzi's spokesman also confirmed the phone call and personal apology.
"I'm told they talked about the importance of respect for one another and treating others as they would want to be treated," said the spokesman, Max D'Onofrio, in an email.
Enzi and his Press Secretary claim Enzi wasn't specifically referring to Goodwin, whom the Star-Tribune refers to as "Wyoming's best-known cross-dresser", in his remarks.
BREAKING: @SenatorEnzi apologizes to cross-dressing #wyoming man for tutu comment. #wypol #wyleg https://t.co/lxKWq18clr

— Laura Hancock (@laurahancock) April 27, 2017