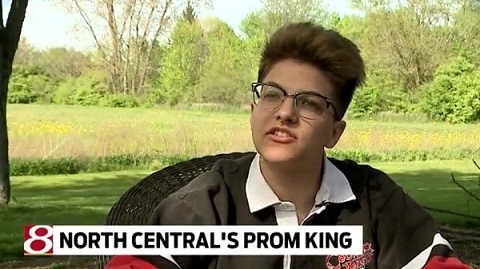 Last weekend, a high school in Indianapolis crowned its first transgender prom king.
17-year-old North Central prom king Alan Belmont, who who attended the dance with his girlfriend, told WISH-TV:
"I wanted young kids at my school, who are trans or maybe gay or just coming into their identity, to know that being LGBT doesn't have to be a cripple and that being LGBT is something that you should be proud of and you should represent."
@TheEllenShow "Surge of confidence" North Central High School names transgender prom king | 13 WTHR Indianapolis https://t.co/UXqgTnseq0

— Jamie Belmont (@jamieleebelmont) April 24, 2017
Belmont added:
"There needs to be a first so other people know that it's okay to run and that they'll be safe and that they'll be celebrated.
"It's kind of a bittersweet thing being the first person because it's great that there finally is a first person, but the fact that it's happening so late can be disappointing.
"Being trans doesn't have to be something that's so taboo. Being open about your identity is such a wonderful thing and it helps grow confidence and helps people be happy for sure."
Although the majority of his fellow students were supportive, school authorities are investigating a report that one of his fliers was damaged.
Watch the WishTV report below.