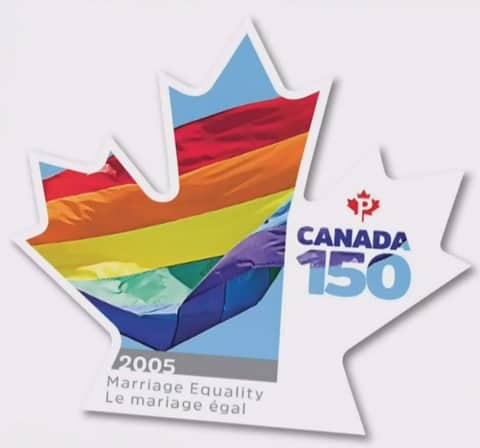 Canada Post has issued a new stamp celebrating same-sex marriage.
As part of Canada's 150th birthday celebrations, the agency unveiled the stamp on Tuesday at a LGBT community center in Toronto.
Meanwhile in Canada. A new stamp. pic.twitter.com/C04SD7pegA

— Allana Harkin (@AllanaHarkin) May 10, 2017
CTV reports:
The maple-leaf-shaped stamp shows an image of a rainbow flag and the words "marriage equality" in both French and English.
Canada Post is issuing 10 special stamps to honour key moments in Canada's 150-year history.
It says the day in 2005 when same-sex marriage became legal across the country is one of the milestones that have shaped Canada.
The stamp will be available on June 1st.
Watch Canada Post's Marriage Equality video and a CTV report below.
Our 4th #Canada150 stamp commemorates the 2005 passage of the Civil Marriage Act, which made marriage equality the law throughout Canada. pic.twitter.com/915AE8ETqF

— Canada Post (@canadapostcorp) May 9, 2017