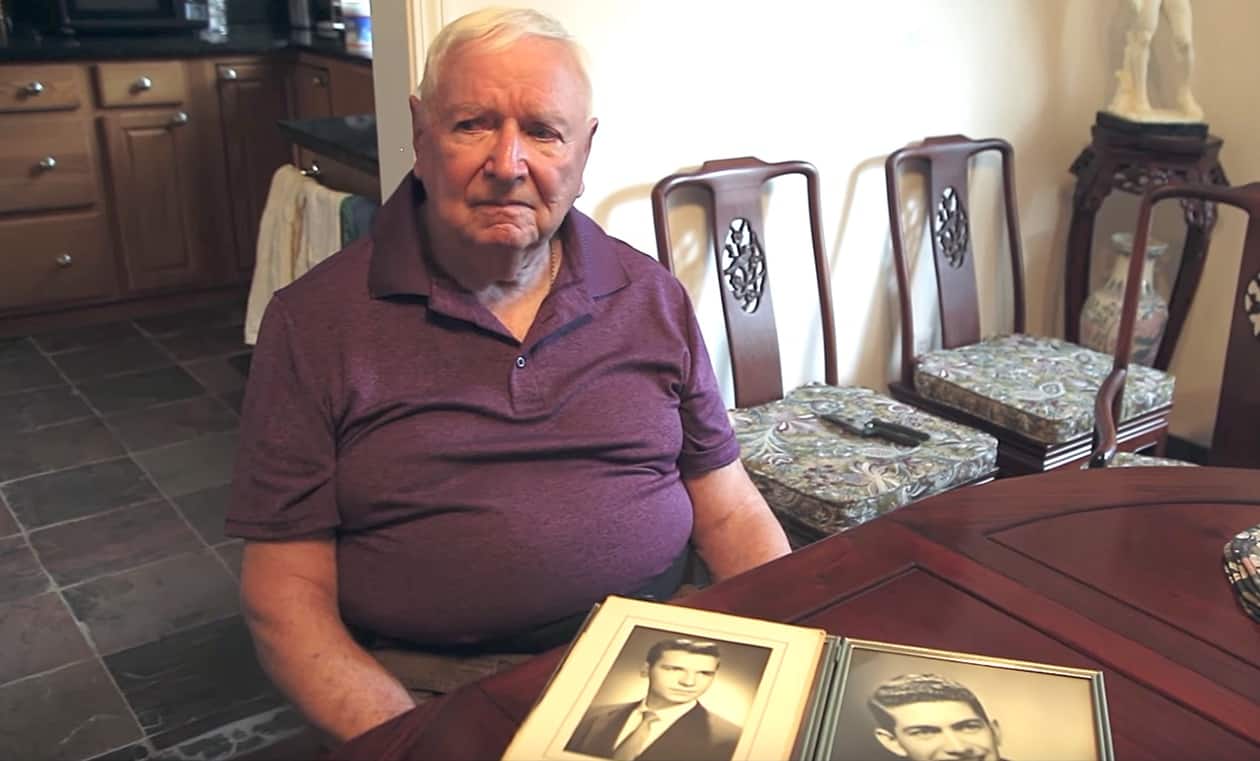 Lambda Legal has joined a lawsuit against a Picayune, Mississippi funeral home which refused to handle funeral arrangements for Robert  (Bob) Huskey after it learned that Huskey was gay, leaving Huskey's husband, 82-year-old Jack Zawadski (above) to have to scramble to make other arrangements shortly after Huskey's death.
Bob and Jack were a couple of 52 years who married shortly after the Supreme Court legalized same-sex marriage nationwide in 2015. Huskey's health declined shortly thereafter and he died.
After Bob died on May 11, 2016, the nursing home provided Picayune Funeral Home with necessary information confirming Bob's death and identifying Jack as his husband. Shortly thereafter, the nursing home called their nephew John and informed him that Picayune Funeral Home was now refusing to pick up the body and perform the cremation.
Since the nursing home could not keep Bob's body on site, Jack and John had to scramble to locate another funeral home with an on-site crematorium. They located one in Hattiesburg, some 90 miles away. By that time, because Bob's body could not be housed at the nursing home for the hours it would take for the Hattiesburg hearse to arrive, they had to find yet another funeral home in Picayune willing to transport Bob's body to Hattiesburg.
"John made all necessary arrangements before Bob's passing in order to shield his 82-year-old uncle from additional suffering and to allow friends to gather to support Jack in his grief," Littrell explained. "Instead, Bob's peaceful passing was marred by turmoil, distress and indignity, adding immeasurable anguish to Jack and John's loss. This should not have happened to them, and should not be allowed to happen again."
Lambda's complaint says that Picayune Funeral Home told Zawadski they don't "deal with their kind."
The suit identifies Brewer Funeral Services, the parent company of Picayune Funeral Home, and owners Ted and Henrietta Brewer.
When reached Tuesday afternoon, Henrietta Brewer vehemently and tearfully denied the allegations. Brewer said the funeral home has served numerous gay families over the years.
"It's not true," she said of the allegation. "We have done many gay families."
Offering an example, Brewer said a man in Florida sends flowers every season for the funeral home to place on the grave of his late husband who is buried in Memorial Gardens, a cemetery owned and maintained by the Brewers.
She would not provide the identification of the widower.
Brewer said she doesn't know where the allegation stems from, saying, "We did not refuse this man because he was gay. We didn't refuse him at all."
She said there was no contract between the funeral home and Huskey's family.
Lambda Legal attorney Beth Littrell says the funeral services company is lying:
"I am confident that we will be able to prove through witness, phone records and other means that what we claim in the lawsuit is in fact what happened," she said.
Watch Jack's story: