SHOCKED AND SADDENED. Prince William releases statement after Manchester bombing: "Like everyone, Catherine, Harry and I are left shocked and saddened by the tragedy that unfolded in Manchester overnight. Hundreds of friends, parents, children and partners are confronting unimaginable grief today, and we send our thoughts to them all."
RACHEL MADDOW. On surging ratings: "People are looking for answers."
APPLE. We received secret letter from the government demanding personal information on a customer.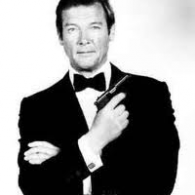 RIP. 007 Roger Moore dies at 89: "Before Sir Roger became the third actor to play James Bond in the main movie series, he was in several TV shows and movies including The Last Time I Saw Paris, The Saint, Maverick, Ivanhoe and The Persuaders. After George Lazenby didn't work out as Bond and Sir Sean Connery decided he was finally done with sipping martinis and humping on Bond Girls, Sir Roger made his debut as James Bond in 1973's Live And Let Die. He played Bond in six more movies (many of which are arguably the best Bond movies) and is the longest-serving 007."
FACEBOOK MEDDLING. FEC asked to investigate whether Russian agents bought Facebook ads to spread damaging stories about Hillary Clinton: "'I think there is potential there for finding a violation, but I don't want to suggest that I have prejudged anything that could potentially come before me,' said FEC Commissioner Ellen Weintraub, a Democratic appointee to the commission."
CANADIAN PROM. And a Justin Trudeau photobomb.
Prom season in #Vancouver pic.twitter.com/pgLUqdkgjd

— Adam Scotti 🇨🇦📷 (@AdamScotti) May 20, 2017
GAY BOWL '17. New England Patriots to sponsor flag football tournament: "The Gay Bowl was created in 2002 as an annual national championship tournament for LGBT flag football teams. About 40 teams are expected to compete in several divisions, including a women's division, from across North America. The San Diego Bolts are the five-time defending champion."
ELTON JOHN. Classic songs given new videos after contest: "At a special screening in Cannes, Elton and Bernie viewed the winning entries, as chosen by themselves and an expert panel including Oscar-winning director Barry Jenkins. The winners included: Max Weiland's live-action take on Tiny Dancer; Majid Adin's animation for Rocket Man; and Jack Whiteley and Laura Brownhill's choreographed interpretation of Bennie and the Jets. Each winning entrant presented their work with a few words."
THE COVERS ARE WITH YOU. Vanity Fair releases four Star Wars covers for 40th anniversary.
Leading up to @StarWars's 40th anniversary, Vanity Fair introduces the next chapter in its saga: #TheLastJedi https://t.co/jLLif1n8L4 pic.twitter.com/41Yb5GVMES

— VANITY FAIR (@VanityFair) May 23, 2017
BEEF ON THE GRILL. James Corden talks with Katy Perry about her feud with Taylor Swift.
https://twitter.com/katyspics/status/866916177989259264
TOO HOT TUESDAY. Pietro Baltazar.