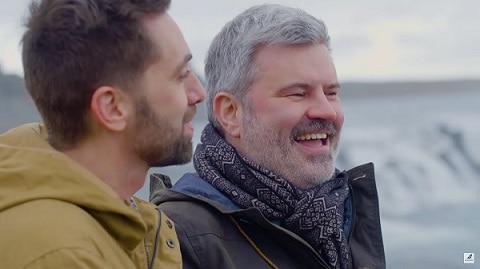 Icelandair has released the company's first ad to feature a gay couple.
The clip shows a gay couple taking in the sights of Iceland including the Geysir hot springs, the Northern Lights, Reykjavik and the Blue Lagoon.
Jón Skafti Kristjánsson, brand manager at Icelandair, said:
"Icelandair's customers are as diverse as they are many. We think it's only natural to reflect that in our marketing material and therefore aim for a marketing approach that reaches certain groups and is suitable for certain media.
"This ad portrays a cultural trip to Iceland and the group it's aimed at is people who travel to enjoy what life has to offer with their loved ones. So it was an obvious choice to use a loving middle-aged couple for such an ad; it's worked well for us in the past. But this time we thought: why not add to the diversity and make this loving, middle-aged couple a same-sex couple?"
According to Iceland Monitor, Kristjánsson added that Icelandair "didn't intend to create an ad that would only appeal to gay people." The target group, he said, "is simply middle aged people who are interested in foreign culture and enjoying life with their spouses…but of course, queer couples tend to feel freer to be themselves in Iceland compared to some other countries."
WATCH: The reason Icelandair chose this sweet middle aged gay couple for new ad is so important #Gay News # … – https://t.co/nz779imiq3 pic.twitter.com/uyBYbRdpxw

— LGBT2 (@LGBTcuty) May 24, 2017
The ad, which you can watch below, will be shown on social media in all of Icelandair's global marketing areas.