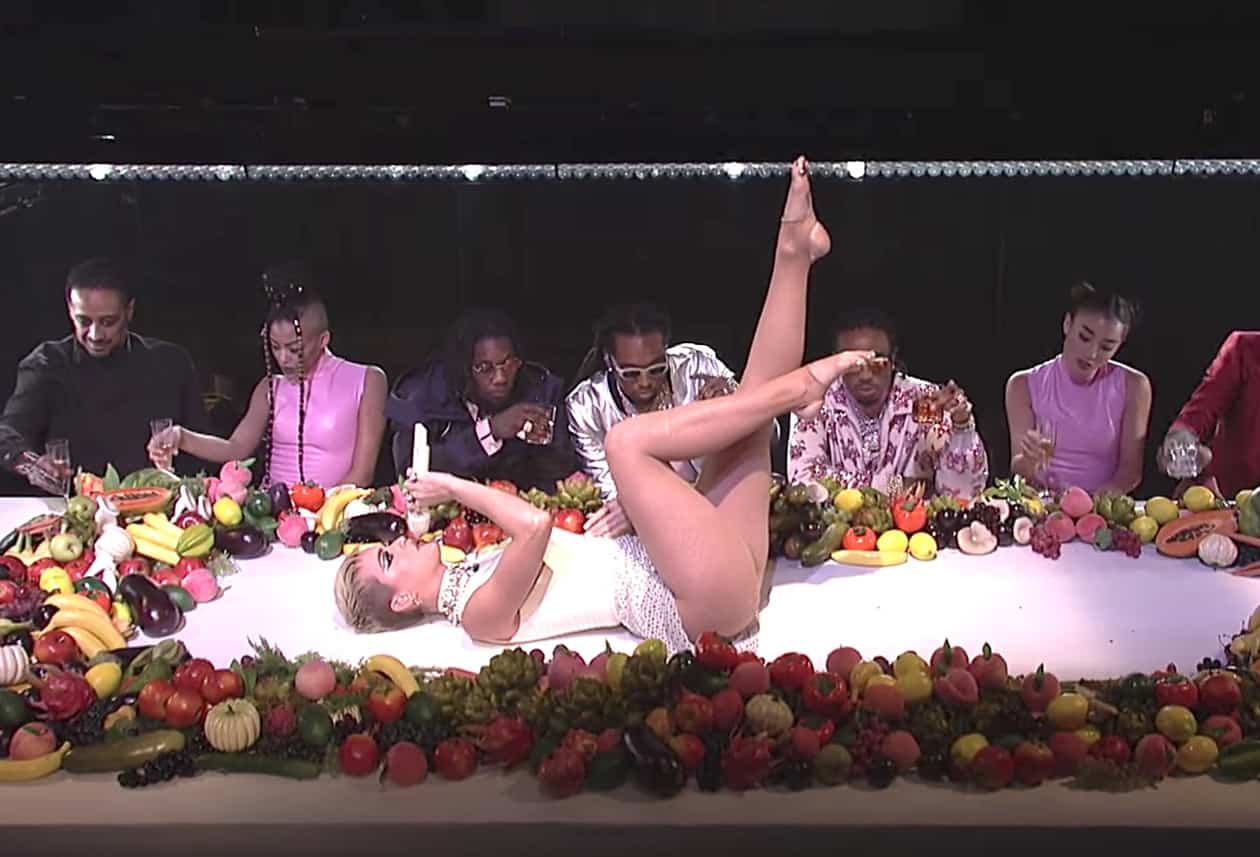 A drag queen who was included in Katy Perry's performance of "Bon Appetit" on Saturday Night Live said there was "no drama" with rap trio Migos as was alleged in reports earlier this week.
Writes Spin of the original World of Wonder report:
Before being picked up by music and other websites—starting it appears with Uproxx, and then spreading to music and gay interest blogs—the story originated on the website of World of Wonder, the production company behind Rupaul's Drag Race, which is on its way to building a mini-empire of online drag content. But the link to the post about Migos returns a 404, and neither the site nor the company appear to have explained why the story was taken down. You can still read the three anonymous quotes—two from unnamed drag queens, another from an alleged SNL employee—claiming that Migos didn't "feel comfortable" performing alongside drag queens on websites that have aggregated the story, but the original post has been retracted for whatever reason.
One of the queens who appeared in the "Bon Appétit" performance is Brita Filter, who you see on the left wearing pink and yellow. In an email, she seemed to reference a claim in the WOW post that the selection of queens included in the performance changed over a number of rehearsals, but said that there was "no drama" with Migos:
It was incredible performing with Katy Perry. She wanted to have all walks of life at the table. I was happy to represent all the drag queens. There was numerous changes throughout the rehearsal process. They chose to have only people of color at the table. There was no drama with Migos.
One queen who appeared in Perry's performance of "Swish Swish" earlier in the night, and who asked that her name not be used, said that she had only heard the same rumors as everyone else but could not confirm them, and invited Migos out to "enjoy any of our shows."
A representative for Katy Perry said in an email that "the story is false." A representative for Migos did not respond to requests for comment, but told the Atlanta Journal Constitution that the story is "completely false and fabricated."
https://www.youtube.com/watch?v=lKmfcV-_Gx0
Some fans have been unhappy that Perry collaborated with Migos on the single, who have been in the headlines in recent months for remarks they made about a gay rapper.
Earlier this year, the Atlanta-based hip-hop trio raced up the charts with the hit single "Bad and Boujee" and released the Calvin Harris- Frank Ocean collaboration "Slide". They had a strong reaction when asked about iLoveMakonnen, the hip-hop artist who came out of the closet in January.
The group made its remarks in an interview with Rolling Stone, suggesting that Makonnen's sexual orientation undermines his credibility.
Migos later told TMZ their remarks were twisted by the publication, and that they would be open to playing a gay club…if the club paid up.
— MIGOS™ (@Migos) February 8, 2017