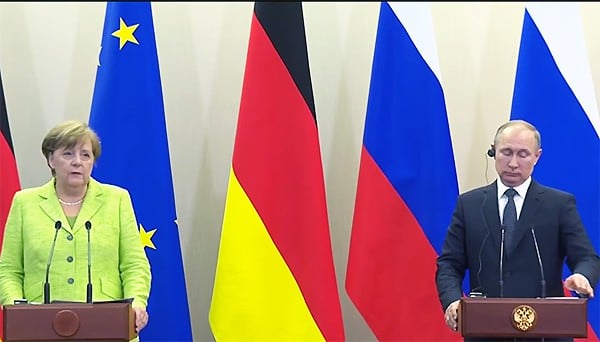 German chancellor Angela Merkel took the opportunity of her first visit to Russia since 2015 to urge Putin to react to reports of an ongoing crackdown against gay men in Chechnya.
As accounts of the detention, torture, and even murder of gay men in the Russian republic in the Caucasus continue to spread, Merkel called on Putin to intercede on behalf of the persecuted:
At a tense joint news conference with Mr Putin, Mrs Merkel said she had received "negative reports on the treatment of homosexuals, particularly in Chechnya".
"I asked President Putin to use his influence to guarantee the rights of minorities," she added.
Merkel further raised the matter of the freedom of protesters to gather, following the roundup of St. Petersburg LGBT activists yesterday who sought to throw light on the urgency of the situation in Chechnya:
She also called for freedom of assembly to be protected, after Russian riot police arrested protesters demonstrating against the persecution. "It's important to have the right to demonstrate in a democracy, and the role of NGOs is very important," Ms Merkel said.
Putin has seemed to accept Chechen president Ramzan Kadyrov's insistence that the reports were untrue. The grave human rights violations in Chechnya came to light last month, and the journalist who broke the story has since fled for her safety.