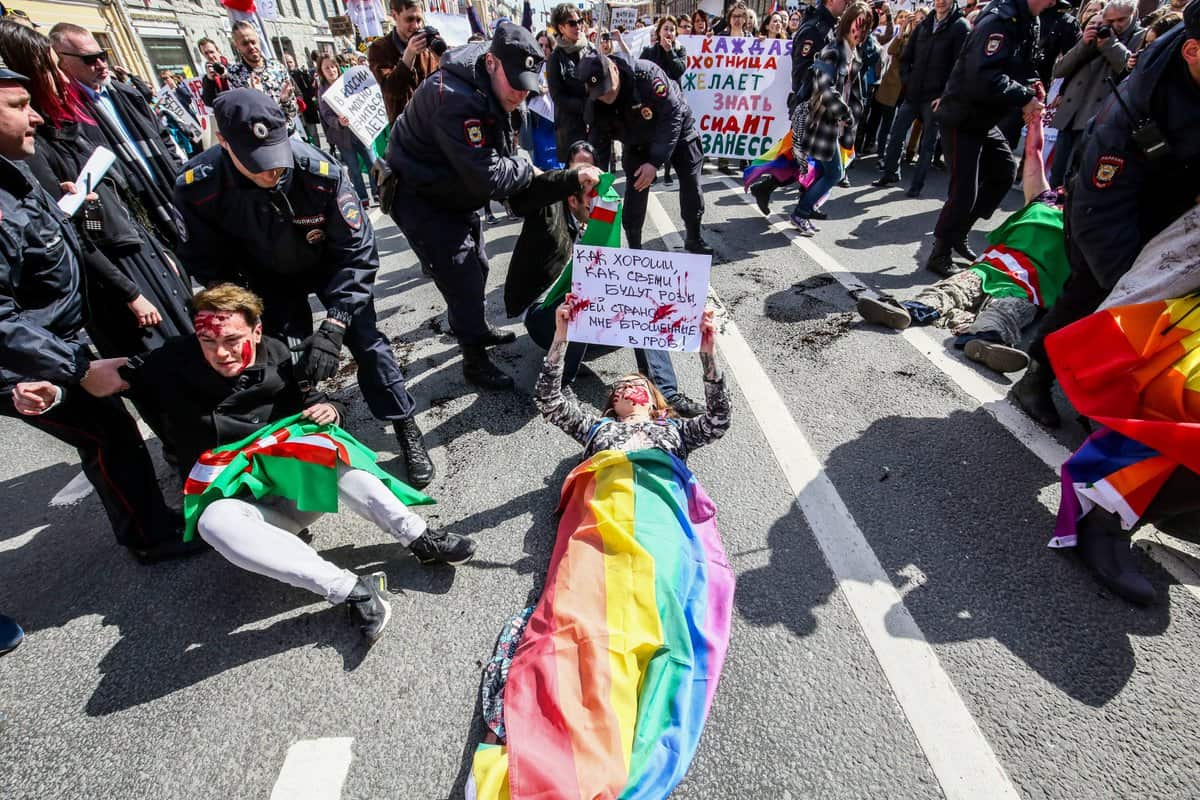 A demonstration by LGBT activists against anti-gay abuses in Chechnya held in the midst of a St. Petersburg May Day march was broken up by Russian police today as around ten to twenty protesters were arrested.
The protesters were detained near the Anichkov Bridge by officers in riot gear, who led them into police vans. The activists had wrapped themselves in rainbow and Chechen flags and had lain down in the street, smeared with fake blood, to symbolize the ongoing detentions, torture and deaths of gay men in the Russian republic in the Caucasus.
На первомае в Петербурге задержали акцию в против убийства геев в Чечне pic.twitter.com/uV202NGD4b

— Dave Frenkel (@merr1k) May 1, 2017
Chechen president Ramzan Kadyrov continues to deny reports of the anti-gay campaign, even implausibly claiming his republic has no gay people at all, but disturbing allegations that he has vowed to eliminate its gay populace by Ramadan have been transmitted abroad. Russian president Vladimir Putin reportedly takes Kadyrov's denials at face value, while Foreign Ministry officials have stonewalled on the subject in the face of increasing alarm and concern abroad.
While Russian LGBT activists have previously organized for visibility and advocacy on the occasion of May Day, which often features pro-labor, anti-corruption marches throughout Europe, and in Soviet times had also taken a pro-Communist slant, this current attempt was colored with the urgency of the deteriorating LGBT situation in Chechnya. Igor Kochetkov, a prominent activist, told Reuters he had been among the number detained, and that they had called for Kadyrov to be tried in the International Criminal Court in the Hague.