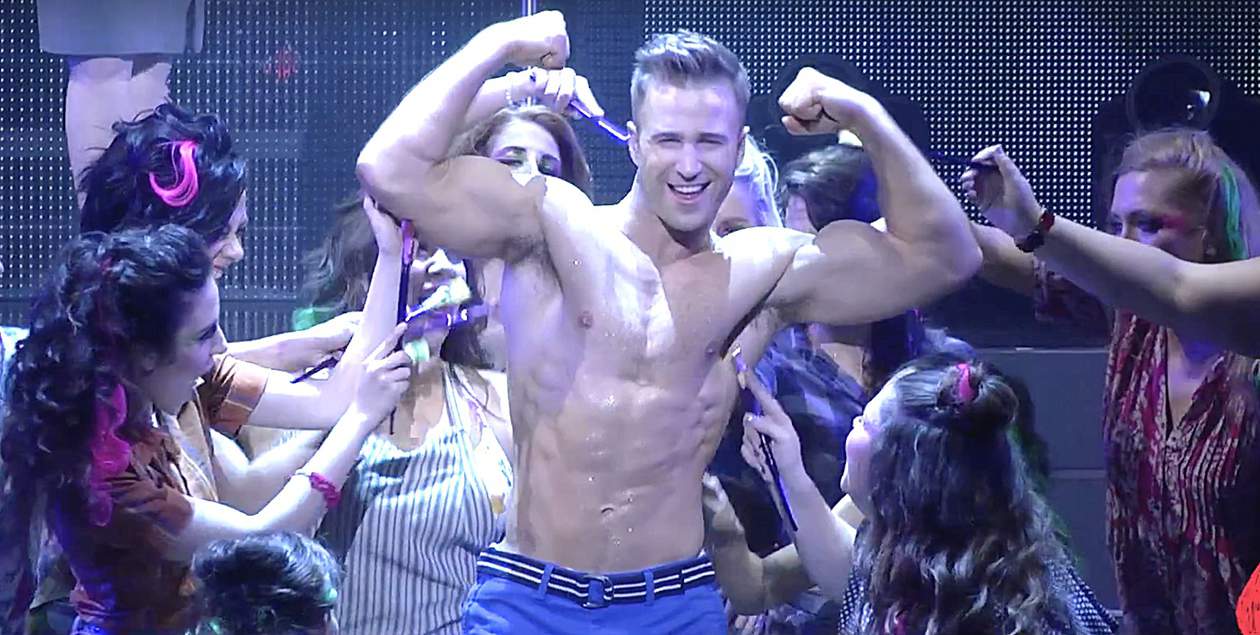 Last night's 27th edition of Broadway Bares pulled in a whopping $1,568,114 in two performances at NYC's Hammerstein Ballroom to benefit Broadway Cares/Equity Fights AIDS.
Check out a (work-unfriendly) HIGHLIGHT VIDEO from the show HERE.
Some details on the show, called 'Strip U' from BCEFA:
This year's Broadway Bares stripped away the fears of freshmen and saluted seniors as a journey across the Strip U campus took us to a seductive observatory, exploding chemistry lab, flirty fine arts class, frat party-turned-Greek god fantasy, a lesson in stiletto strutting and Havana, Cuba, for a sizzling semester studying abroad.
Two-time Tony Award nominee and seven-time Emmy winner Allison Janney started the show with a video invitation as Strip U's president, offering sexy salutations, a campus history and words of wisdom: "Our motto reminds us of our core values every day: Honorem, Integritas, Nuditas, Erectus."
The show opened with Broadway favorite Jay Armstrong Johnson (On the Town, TV's Quantico) learning he was accepted to Strip U, the only college where clothing is optional and striptease is always in the curriculum. As the dean of admissions at Strip U, Olivier Award winner Lesli Margherita (Matilda The Musical), flanked by some of Broadway's best student bodies, welcomed Johnson to his new home for the next four years. The welcoming, diverse campus proudly stripped down, celebrating self love and acceptance.
The opening number was choreographed by Nick Kenkel, who returned to direct Broadway Bares for the fifth year and created the Strip U concept. The opening number was written by Hunter Bell and Wade Dooley, with music by Matt Sklar and lyrics by Amanda Greene.
The patriarchy was stripped apart in Strip U's feminist studies class, which lifted the audience into a rousing frenzy to deliver the loudest cheers of the night. With Kinky Boots' Lola, J. Harrison Ghee, as its gender-nonconforming guide, the number celebrated the historical fight of women – from suffragettes to American women who worked in factories and shipyards during World War II to the rise of Pantsuit Nation. Choreographed by John Alix, the fiery performance of 20 women was backed by larger-than-life images of women through years standing up and speaking out before landing on a modern-day protest sign that declared, "The Future is Female."
The traditional pep rally got a significant step up when The Lion King's L. Steven Taylor and Jelani Remy, who play Mufasa and Simba, led a crew of increasingly scantily-clad students in an energetic step dance. The pair showed off the pep in their step while acrobatically tumbling across the stage, as the step team stripped to shiny booty shorts. The number was choreographed by Laya Barak.
A studly psychology student got an unforgettable lesson in Pavlov's dogs when the strapping Josh Drake (Aladdin) turned into trainer to a class of obedient male classmates in a drool-worthy dance. In full command of his pack, Drake walked the harness-clad mass of male virility down the runway in the number choreographed by Sidney Erik Wright.
A shirts-versus-skins lacrosse scrimmage heated up the stage when Kyle Brown (Anastasia) coached a crew of sweaty, muscled men. Ericka Hunter (Miss Saigon) and Katie Webber (Charlie and the Chocolate Factory) gave the game co-ed flair as they strutted and stripped their protective gear in the athletic number. The scrimmage was choreographed by Charlie Sutton.
The sky filled with spellbinding stars when 10 aerialists from Las Vegas' acclaimed Living Art of Armando performed a high-flying and breathtaking aerial dance at Strip U's observatory, staged by Bares favorite Armando Farfan Jr. Below the celestial constellations, Josh Daniel Green (Wicked), Kar Will and a team of Broadway Bares dancers stayed grounded for a ballet-infused romance, choreographed by Kenkel.
Internet personality Randy Rainbow and On Your Feet's Ana Villafañe made special guest appearances as a psychology professor and a foreign exchange student.
In the finale, Instagram sensation Tom Lenk (Buffy the Vampire Slayer), playing a pesky Department of Education auditor who appeared throughout the show, finally saw the Strip U way and offered the university full federal funding. The entire cast of more than 180 dancers flooded the stage, providing an electrifying finale to the show.
The show's famous "rotation," where the entire cast danced to encourage individual appreciation tips from the audience, followed each show. This year's rotation raised an additional $22,038.
Tony-winning director and choreographer Jerry Mitchell, who created Broadway Bares in 1992 and serves as executive producer, and Tony winner Judith Light thanked the audience at the show's close. "We must take the power of our diverse communities and dedicate our energies to the importance of taking care of ourselves and each other," Light said. Light and Mitchell also reminded the audience: "Safe sex is hot sex. We can best love each other by protecting each other."