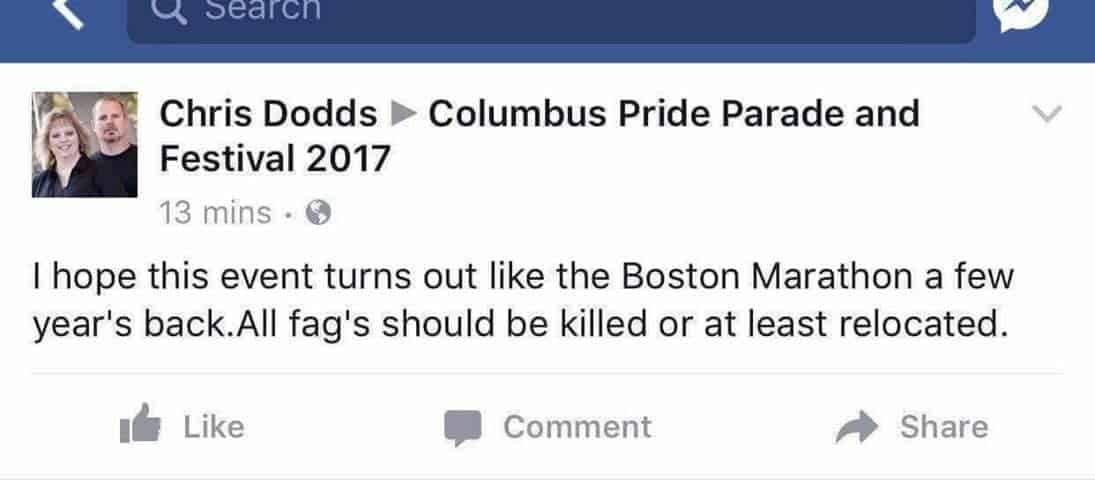 Chris Dodds, a garage assistant supervisor for Columbus City Schools, posted a message to the Facebook page of the Columbus Pride Parade and Festival that should get him fired.
Said Dodds, who has worked for the Columbus school system since 20014:
"I hope this event turns out like the Boston Marathon a few year's (sic) back. All fag's (sic) should be killed or at least relocated."
The Columbus Dispatch reports that the school is looking into it as is law enforcement:
"Columbus City Schools values and celebrates its diversity. Please know that we are working with authorities to address this matter and his actions. We do not tolerate discrimination of any kind," said Scott Varner, a spokesman for the school district. "We are currently working toward Mr. Dodds' termination."
…Denise Alex-Bouzounis, a spokeswoman for Columbus Division of Police, said: "We are aware and (are) looking into it."
Karla Rothan, executive director of Stonewall Columbus Pride Festival and Parade, said hate is nothing new.
"We get protesters quite often. We're used to it," she said. "I think we're going to come out and have a wonderful day. We make (police) aware of any threat. We let them handle it."
Samuel Shamansky, a Columbus defense attorney, said Dodds' post just falls short of meeting the standard for aggravated menacing under Ohio law. The law states "no person shall knowingly cause another to believe that the offender will cause serious physical harm to the person."
A visit to Dodds' Facebook page reveals that he's also a Trump fan who supports the Confederate Flag.