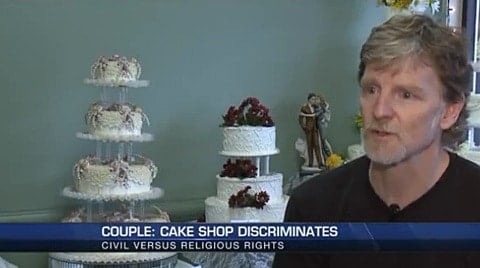 The Supreme Court has agreed to take on the case of Jack Phillips, a Denver baker, who refused to sell a wedding cake to a gay couple.
Lower courts had ruled that Jack Phillips, the owner of Masterpiece Cakeshop, had violated Colorado's public accommodations law, which prohibits refusing service to customers based on factors such as race, sex, marital status or sexual orientation.
In July 2012, David Mullins and Charlie Craig went to Denver's Masterpiece Cake Shop, owned by Phillips,  looking for a cake to celebrate the couple's upcoming nuptials.
Phillips denied the couple's request and later admitted he had turned away other same-sex couples as a matter of policy.
In 2013, a judge ruled against Phillips. The Colorado Civil Rights Division's [CCRD's] decision noted evidence in the record that Phillips had expressed willingness to take a cake order for the "marriage" of two dogs, but not for the commitment ceremony of two women, and that he would not make a cake for a same-sex couple's wedding celebration "just as he would not be willing to make a pedophile cake."
Phillips and his lawyers, the ultraconservative anti-gay legal group Alliance Defending Freedom, have been appealing the ruling since, and losing each time, which is now why it has reached SCOTUS.
Here's a 2014 interview Phillips did with the Christian Broadcasting Network, about his victimization: