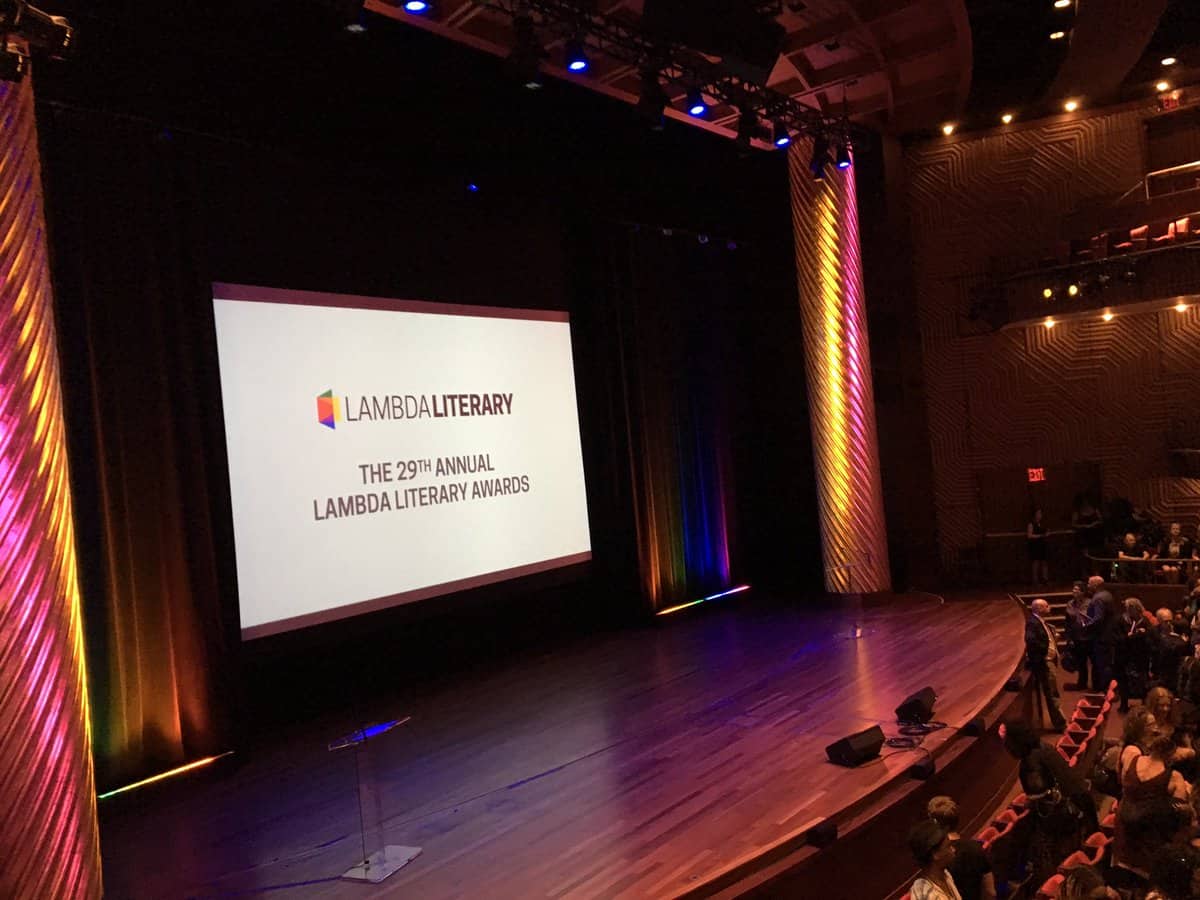 Lambda Literary announced the winners of its 29th Annual Lambda Literary Awards for excellence in LGBT literature at a ceremony Monday night at the NYU Skirball Center of the Performing Arts in New York City.
Hosted by trans-genre artist Justin Vivian Bond, presenters included Tony Award-winning producer Vivek Toward, comedian Tig Notaro, actress Cynthia Nixon, and New York Times columnists Frank Bruni and Masha Gessen.
Notable "Lammy" winners included activist Cleve Jones for When We Rise: My Life in the Movement in Gay Memoir/Biography, later adapted into a well-received television miniseries by Dustin Lance Black. "I wrote this book because the LGBT movement saved my life," said Jones as he accepted his award, "and I'm ready to keep fighting."
Other honorees are detailed by Lambda Literary:
Jacqueline Woodson and Jeanette Winterson were also honored for their lifetime achievements. Tony Award-winning actress Cynthia Nixon introduced Woodson, a "writer who is part of the institution but stands outside it and critiques," said Nixon. "She is the writer, the friend, the citizen these times demand." Accepting the Visionary Award, Woodson noted, "The work we do as a queer community for the generations beyond us make me proud to be standing here and accept this award."
Later, Baileys Women's Prize-winning author A.M. Homes introduced Jeanette Winterson, who won the Trustee Award. "A lifetime achievement award is more than overdue for Jeanette," said Homes. During her acceptance speech, Winterson praised the powers of writers and imagination. "Everything that happens starts with an idea," said Winterson. "We should protect and expand the imagination: to imagine the world as different than it is."
Other winners of the night included David France for How to Survive a Plague: The Inside Story of How Citizens and Science Tamed AIDS, a companion book to his award-winning documentary film, in LGBT Nonfiction.
Their closing statement:
"In a year of great political turmoil, the Lammys were a reminder that our LGBTQ writing community remains at the forefront of resistance to attacks on our communities," said Tony Valenzuela, Lambda Literary Executive Director. "Congratulations to all the winners and honorees. You inspire us."
The full list of award winners:
Lesbian Fiction
Here Comes the Sun, Nicole Dennis-Benn, Liveright Publishing Corporation
Gay Fiction
The Angel of History, Rabih Alameddine, Atlantic Monthly Press
Bisexual Fiction  
Marrow Island, Alexis M. Smith, Houghton Mifflin Harcourt
Bisexual Nonfiction
Black Dove: Mama, Mi'jo, and Me, Ana Castillo, The Feminist Press
Bisexual Poetry
Mouth to Mouth, Abigail Child, EOAGH
Transgender Fiction
Small Beauty, jia qing wilson-yang, Metonymy Press
LGBT Nonfiction
How to Survive a Plague: The Inside Story of How Citizens and Science Tamed AIDS, David France, Knopf
Transgender Nonfiction
Life Beyond My Body: A Transgender Journey to Manhood in China, Lei Ming, Transgress Press
Lesbian Poetry (TIE)
play dead, francine j. harris, Alice James Books
The Complete Works of Pat Parker, Julie R. Enszer, Sinister Wisdom/A Midsummer Night's Press
Gay Poetry
Thief in the Interior, Phillip B. Williams, Alice James Books
Transgender Poetry
Reacquainted with Life,KOKUMO, Topside Press
Lesbian Mystery
Pathogen, Jessica L. Webb, Bold Strokes

 Books
Gay Mystery
Speakers of the Dead: A Walt Whitman Mystery, J. Aaron Sanders, Plume
Lesbian Memoir/Biography
The Wind is Spirit: The Life, Love and Legacy of Audre Lorde, Dr. Gloria Joseph, Villarosa Media
Gay Memoir/Biography
When We Rise, Cleve Jones, Hachette Books
Lesbian Romance
The Scorpion's Empress

, Yoshiyuki Ly, Solstice Publishing
Gay Romance
Into the Blue, Pene Henson, Interlude Press
LGBT Erotica
Soul to Keep, Rebekah Weatherspoon, Bold Strokes Books
LGBT Anthology
The Remedy: Queer and Trans Voices on Health and Health Care, Zena Sharman, Arsenal Pulp Press
LGBT Children's/Young Adult
Girl Mans Up, M.E. Girard, Harper Teen
LGBT Drama
Barbecue/Bootycandy, Robert O'Hara, Theatre Communications Group
LGBT Graphic Novels
Wuvable Oaf: Blood & Metal, Ed Luce, Wuvable Oaf: Blood & Metal, Fantagraphics Books
LGBT SF/F/Horror
The Devourers, Indra Das, Del Rey
LGBT Studies
Sex Museums: The Politics and Performance of Display,

 Jennifer Tyburczy

, University of Chicago Press