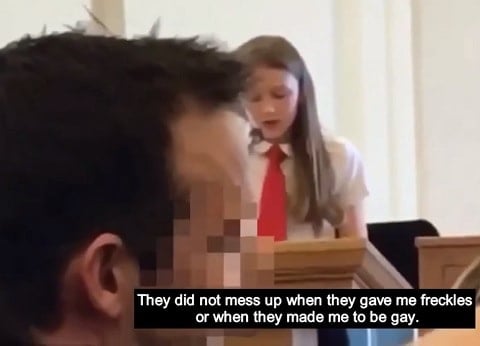 A Mormon church official shut down a 12-year-old girl as she came out in front of her congregation last month.
Speaking at a Fast & Testimony meeting, Savannah told church members "God loves me just this way, because I believe that he loves all his creations… I do believe he made me this way on purpose."
She continued:
"No part of me is a mistake. I do not choose to be this way, and it is not a fad. I cannot make someone else gay and being around me won't make anyone else this way. I believe that God wants us to treat each other with kindness, even if people are different."
However, part of the way through her speech Savannah was told to sit down by a church official.
Her mother Heather told Huffington Post that Savannah first came out in June 2016, telling her that she "felt alone in her thoughts, that the other girls all had crushes on boys, but she didn't, she liked the girls." Heather reassured her daughter and told her that she is perfect the way that she is.
Heather went on to say that Savannah had been asking to share her story in front of the church since last January to possibly let other closeted church members know that they had in ally in her.
"My take away was that of awe," Heather said of Savannah's speech. "She is brave and courageous. I would have been terrified to get up and say something so close to my heart for fear of what people think. I'm proud of her, even now, she doesn't want any of this to be about her, she wants it to be about protecting other LGBT kids. She wants her story told so that this doesn't happen to other kids. She said she is both happy and sad about the whole thing. Happy because she 'feels free' happy because part of me can look at her as a gay person, and see she's no different than anyone else. She's sad because she was going to share a story where the church accepted her with no question."
Heather added:
"I want the Mormon Church to know that gay people are beautiful, they are just as good and whole as everyone else, and they deserve life long love.
"Savannah wants the Church to know that she isn't bad, that God loves her, and she is gay because she was born that way. 'Tough love' won't take the gay away. Christ would want us all to just love."
Late last year, the Mormon Church launched a website for LGBT members that emphasizes you can be be a gay Mormon as long as you remain celibate.
You can hear more about Savannah's story on the podcast I Like To Look For Rainbows! 
Watch her speech below.