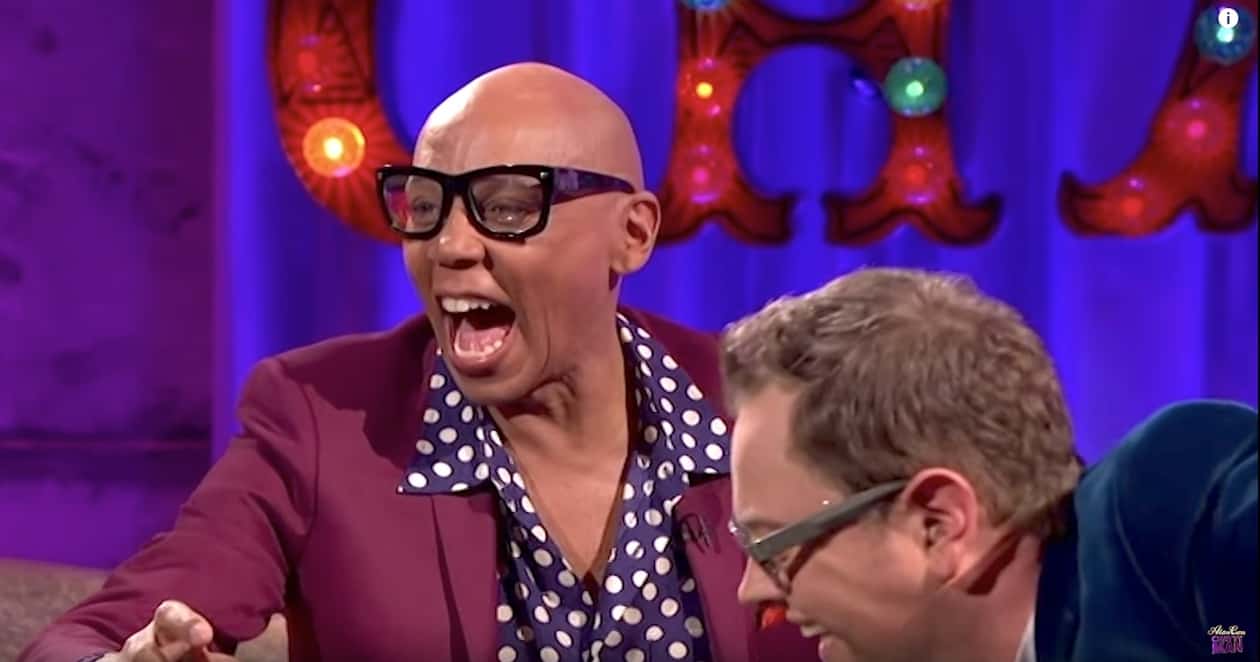 RuPaul paid a visit to exuberant UK talk show host Alan Carr this week on his show Chatty Man and the results were predictably hilarious.
Carr and RuPaul discussed the wonders of cranberry juice, the explosion in popularity of RuPaul's Drag Race which is airing in the UK on TruTV, whether there might be a UK version of the show, inspirations, what men will stick it in (anything), and tucking!
Said RuPaul: "I've got quite a meaty tuck."
RuPaul is riding on a wave of success and recognition in recent weeks. The Hollywood Walk of Fame just announced that he'll be getting his own star this year. RuPaul was announced along with Kirsten Dunst, Gina Lollobrigida, Linda Carter, Simon Cowell, Ryan Murphy, Taraji P Henson, Petula Clark, Steve Jones from the Sex Pistols, Weird Al Yankovic, Minnie Mouse, Niecy Nash, Mary J Blige, and Lin-Manuel Miranda.
And the RuPaul's Drag Race season 9 (see our recap HERE) set a finale and ratings record at its new home on VH1.
The Season 9 finale was up 218% over last season's ender in adults 18-49, and was the second most-watched episode of the season behind the season premiere in total viewers. It tied as the second most-watched episode of the season in adults 18-49. The finale also was the No. 1 most social program on all of television Friday, trending on Facebook, Twitter and Instagram, VH1 says. In addition, the full season was up 122% from last season in adults 18-49.
Watch: