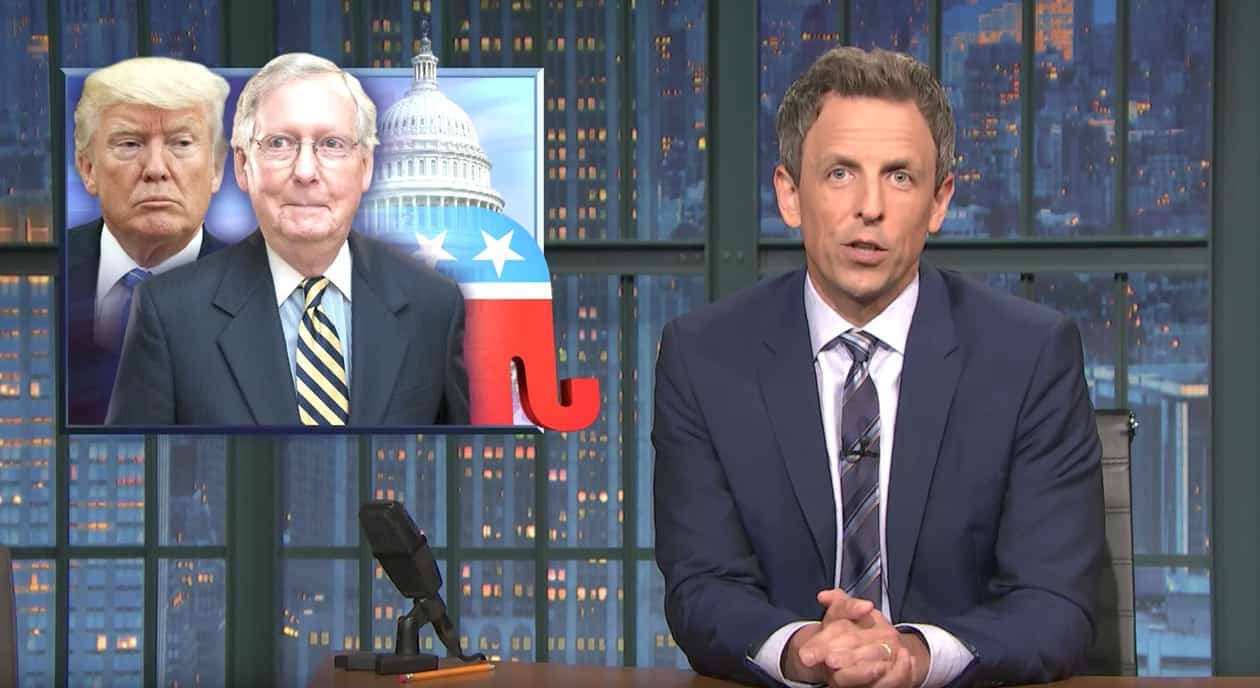 Seth Meyers took apart Senate Republicans on Trumpcare and the "breathtakingly cynical process to produce a breathtakingly cruel bill" last night in his Closer Look segment, setting it up with a list of Trump's promises like the border wall and statements about wealthy people in his cabinet.
Said Meyers:
"And that truly seems to be the operating ethos of the Trump era, a president who campaigned on populist rhetoric but whose policy would cause needless suffering for low- and middle-income people."
"There are some Republicans who claim at least that they are against throwing people off of Medicaid like this, so what happened to those Republicans," Meyers asked. "Well they didn't even know what was in the bill until it was revealed today because Senate Majority Leader Mitch McConnell was basically writing it himself behind closed doors, and nobody's ever doing anything good behind closed doors. If your teenage son was locked in his bedroom this long, you wouldn't say, 'Hey buddy! Are you doing extra credit homework in there?'"
Meyers added:
"The process for writing this bill was so secretive that even the people who were supposed to be writing it had no idea what was in it."
Meyers then pointed out Senator Mike Lee, who was named as one of 13 senators in the working group to develop the healthcare bill, but admitted to his constituents in a video earlier this week that he hadn't seen the bill.
Meyers also mocked Senator John McCain's sassy backtalk to reporters who were asking about the bill, but saved his heaviest fire for McConnell, and his response to Chuck Schumer's request to review the bill:
"I think 'we'll have ample opportunity to read and amend the bill' is the longest euphemism I've ever heard for 'go f**k yourself.'"
As well as the Majority Leader's hypocrisy:
"Republicans can hate Obamacare, but they cannot argue that it wasn't far more open, transparent and inclusive than the process the Republicans are using now…What we're seeing right now is a breathtakingly cynical process to produce a breathtakingly cruel bill."
Watch:
https://www.youtube.com/watch?v=qMhy9aE6tN4