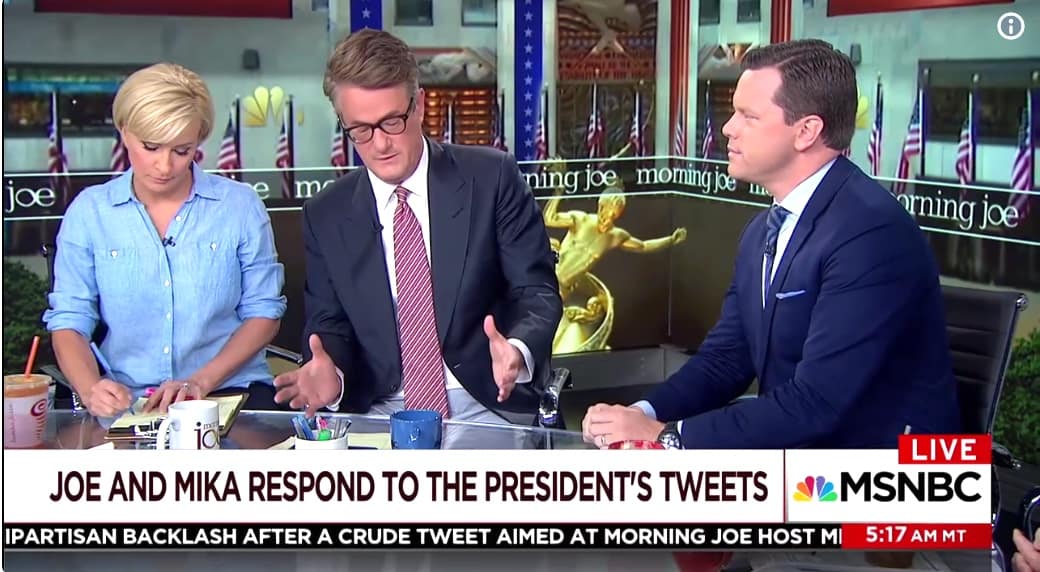 The White House called Morning Joe hosts Joe Scarborough and Mika Brzezinski and threatened them with a National Enquirer story unless they called Trump to apologize for coverage they had done on him, Scarborough and Brzezinski said on Friday morning.
The hosts explained that three top White House staffers told them that Trump is friends with the guy who runs the Enquirer and he'll spike the story if they apologized.
Scarborough and Brzezinski said they didn't call Trump to do such a thing and wouldn't.
This is a chilling story. https://t.co/HYJgBnajOy via @Morning_Joe https://t.co/6UCEHzfOET

— Bradd Jaffy (@BraddJaffy) June 30, 2017
The explanation came after new tweets from Donald Trump attacking the show again and alleging that Scarborough had called him to stop the article.
https://twitter.com/realDonaldTrump/status/880771685460344832?ref_src=twsrc%5Etfw&ref_url=http%3A%2F%2Fwww.joemygod.com%2F2017%2F06%2F30%2Ftrump-continues-attack-msnbcs-morning-joe%2F
Yet another lie. I have texts from your top aides and phone records. Also, those records show I haven't spoken with you in many months. https://t.co/TZWiElo6Gs

— Joe Scarborough (@JoeNBC) June 30, 2017
Why do you keep lying about things that are so easily disproven? What is wrong with you? https://t.co/aAoUj5HYZS

— Joe Scarborough (@JoeNBC) June 30, 2017
The new exchange comes just a day after a previous Twitter attack by Trump on the hosts, one that singled Brzezinski out for her looks and said she was "bleeding badly from a face-lift."
The hosts authored an op-ed for the Washington Post in which they wrote, in part:
President Trump launched personal attacks against us Thursday, but our concerns about his unmoored behavior go far beyond the personal. America's leaders and allies are asking themselves yet again whether this man is fit to be president. We have our doubts, but we are both certain that the man is not mentally equipped to continue watching our show, "Morning Joe."
…The president's unhealthy obsession with "Morning Joe" does not serve the best interests of either his mental state or the country he runs. Despite his constant claims that he no longer watches the show, the president's closest advisers tell us otherwise. That is unfortunate. We believe it would be better for America and the rest of the world if he would keep his 60-inch-plus flat-screen TV tuned to "Fox & Friends."
…More significant is Mr. Trump's continued mistreatment of women. It is disturbing that the president of the United States keeps up his unrelenting assault on women. From his menstruation musings about Megyn Kelly, to his fat-shaming treatment of a former Miss Universe, to his braggadocio claims about grabbing women's genitalia, the 45th president is setting the poorest of standards for our children. We were heartened to hear a number of Republican lawmakers call out Mr. Trump for his offensive words and can only hope that the women who are closest to him will follow their examples. It would be the height of hypocrisy to claim the mantle of women's empowerment while allowing a family member to continue such abusive conduct.
This is what the President of the United States is doing rather than putting his energy toward helping the American people.