An official LGBTQ Pride video posted by YouTube is being blasted by homophobes. With more than 4.1 million views as of this posting, the clip, which features the channel's LGBTQ stars, had received 115,339 thumbs up votes and 182, 272 thumbs down votes.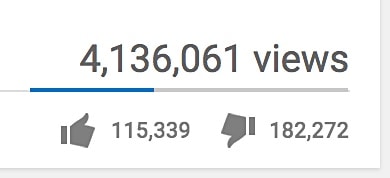 Watch the video above:
Among the top 10 voted up comments (click through to the site):
"Glad to see so many dislikes – some people have the brain."
"make america straight again"
"why does Youtube keep shoving this kind of content down our throats?"
"I just lost so many brain cells watching this"
"god save us from this nightmare."
"0:52 wtf is that monster?"
"3% of the population, 40% of child predators"
"being gay is a mental disorder….usually caused by a fucked up childhood or specific tramautic incident….."
"The only thing positive about this is their HIV tests"
Clearly not the reaction YouTube was hoping for?