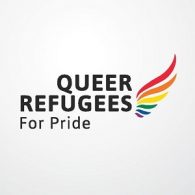 A gay Serbian couple targeted because of their sexuality were beaten close to death in a German refugee camp last week.
The married couple, who had tried to hide the fact that they are gay, arrived at a hospital covered in blood and will require surgery for some of their injuries.
The assault attack was revealed on the Queer Refugees for Pride Facebook page by by Javid Nabiyev.
Nabiyev wrote:
"How many people should face this kind of attack, to make all of you believe, to convince all of you, that our situation is urgent?
"What happened yesterday is happening all over the place. If this person was a German citizen would police react the same way?"
He alleged that a request to move the men to another refugee camp was denied because LGBT people are too small a group "compared to other refugees". However, he wrote, that is precisely why gay refugees need protection.
Last week it was reported that German authorities are asking gay refugees questions about their sexuality and otherwise potentially breaching their rights. The German daily Suddeutsche Zeitung reported that examples of the questioning included a Pakistani asylum seeker being asked in November 2016: "How often did you have sex with your boyfriend?" and "How did you find the intercourse?"
Watch Nabiyev's report on the assault below.
https://www.facebook.com/QueerRefugeesForPride/videos/1784886791801928/