TEXAS. Governor Greg Abbott holds special session of legislature this Tuesday to attack LGBTQ Americans.
DESTROY IT, RATHER. Trump wants to "radically remodel" the State Department: "My suspicion is that within the White House, particularly amongst the nationalist faction … that this seems to actually be a concerted effort to diminish the role of the State Department in U.S. foreign policy and hamper its abilities to pursue policies that would be considered overly globalist," said Stewart Patrick, who served on the policy planning staff at the State Department in the George W. Bush administration.
VICKY VOX. The drag queen unleashed on Katy Perry in an angry tweetstorm.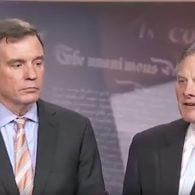 MARK WARNER. Will Trump pardon everyone? "I asked Attorney General Sessions what I thought would be the ultimate softball when he testified. I said — I may not have said it this way — at least you got to tell us that there has been no discussion of pardons at this point. And he did not answer. The possibility of presidential pardons in this process concerns me and also would be, I think, a really, really bad move."
MACRONS. Trump's handshake hijinks continue.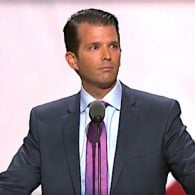 DONALD JR. EMAIL CHAIN. Trump's lawyers knew about it more than three weeks ago: "Trump told Reuters in an interview on Wednesday that he learned just 'a couple of days ago' that Donald Jr. had met with the Russian lawyer, Natalia Veselnitskaya, hoping to receive information that 'would incriminate Hillary' and was "part of Russia and its government's support for Mr. Trump….Trump repeated that assertion in a talk with reporters on Air Force One on his way to Paris Wednesday night."
MICHELLE OBAMA. She showed up at the ESPYs to the delight of the crowd.
KID ROCK. Elizabeth Warren responds to news that Republican Kid Rock is running for Senate: "I know a lot of people are thinking: this is some sort of joke, right? Well, maybe this is all a joke — but we all thought Donald Trump was joking when he rode down the escalator at Trump Tower and announced his campaign, too. And sure, maybe this is just a marketing gimmick for a new album or tour — but we all thought Donald Trump was just promoting his reality TV show, too."
SETH MANEY. Gay Cincinnati Council candidate gets GOP's endorsement.
GERRY REALIN. Cop who responded to Pulse massacre granted early retirement.
MARYLAND. Prison guard admits to sexual assault of transgender inmate in her cell: "Olukunle A. Oyekanmi, a correctional officer at the Montgomery County Correctional Facility in Boyds, near Clarksburg, is accused of attacking the inmate early Tuesday morning.  An investigation showed that Oyekanmi, 41, entered the woman's cell about 6:20 a.m. and sexually assaulted her, police said. Surveillance video showed Oyekanmi was in the inmate's cell at the time of the alleged attack."
SIR AND RUMI. Beyoncé reveals first photo of twins.
PHOTO OF THE DAY. Bill Clinton hides in the Bushes.
President Clinton at the George W. Bush Library tonight. pic.twitter.com/YcgCBoN3Ys

— Yashar Ali 🐘 (@yashar) July 14, 2017
SNEAK PEEK OF THE DAY. Disney Star Wars Land scale model unveiled at D23 Expo:
DEEP DIVE OF THE DAY. "On a single breath of air, Guillaume Néry explores the deepest pool in the world in Italy: Y40. The action is filmed on breath hold by his wife Julie Gautier."
https://www.youtube.com/watch?v=yzh0woiH7Jw
FRIDAY FLASH. Rafael Vigal.