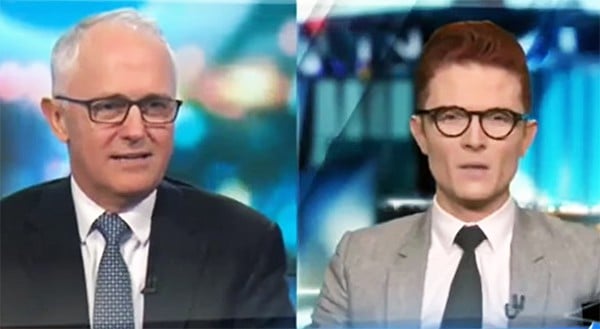 Australian comedian Rhys Nicholson took the opportunity to get in a dig against Prime Minister Malcolm Turnbull during a joint television appearance, in criticism of his conservative government's continuing inaction on marriage equality.
Nicholson, who is openly gay and engaged to partner Kyran Wheatley, has previously expressed impatience with the couple's wait for a legal marriage. Following a failed legislative attempt to put forth a plebiscite vote on the subject, Turnbull's government has since refused to allow a free vote even as bills have come before parliamentary committees.
The Sydney Morning Herald reported on the skirmish:
Turnbull was a special guest on Ten's panel show to defend the Government's controversial new Home Affairs security portfolio to be headed by Immigration Minister Peter Dutton.
But, as often happens when politicians appear on entertainment shows, he stuck around for some lighthearted banter, sitting in on a story about the spike in demand for redheaded sperm donors, which Nicholson, a "ginger ambassador," was beamed in to comment on.
After being awkwardly quizzed on redhead semantics, the comedian flipped the goofy discussion to a more significant analogy.
"The main thing is you don't want anyone to be treated differently for something they can't change about themselves, so just deal with it – like, for example, marriage rights or something," he said.
With Turnbull caught offguard, host Carrie Bickmore quickly shut the segment down, telling the PM "I'm gonna save you from that."
But Nicholson's quip wasn't lost on viewers, who praised him as a "bloody legend" for speaking up on marriage equality and confronting the PM.
Nicholson later denied that he had been cut off unceremoniously by the host:
Juuuust as an FYI, I don't think Carrie & @theprojecttv "cut me off" last night. It was just the end of the segment.https://t.co/0yoKmZWu1D pic.twitter.com/BHdXmLSuSN

— Rhys Nicholson (@rhysnicholson) July 20, 2017

Regardless, Nicholson's jibe seemed to draw blood as Turnbull chuckled uncomfortably and the segment drew to a stilted close.
Watch the exchange below:
https://www.youtube.com/watch?v=UUHUi3HZJWg