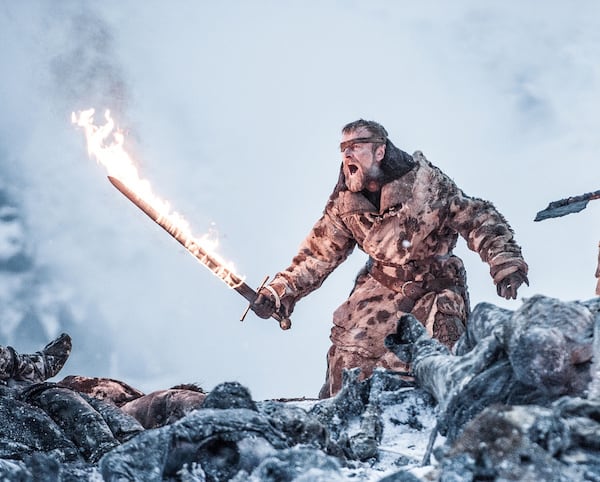 Last week's episode of Game of Thrones felt like a lot of set up. Schemes unfolded, players were shepherded from one location to the next. Following the previous week's Loot Train Battle, "Eastwatch" served as a bit of a cool down, in a way.
Even though last night's episode, "Beyond the Wall," spent most of its time traversing the harsh frozen landscapes of the titular locale, it could not have been more white hot (#WightHot).
There's only one more episode to go this season, so let's not waste any more time getting into it!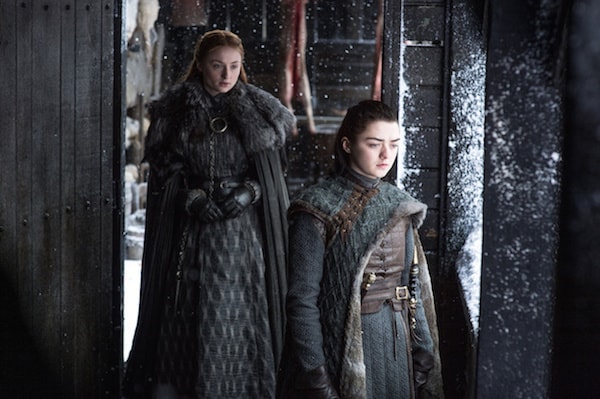 Meanwhile, in Winterfell …
The Stark sisters are having some girl talk out on the veranda. They're reminiscing about Daddy Ned watching over Arya as she practiced her archery. Now seems as good of a time as any for Arya to confront Sansa about the scroll from last week.
I gotta say, I'm glad we didn't spend too much time sitting on this information, sewing distrust slowly between the sisters. Arya comes right out with it, Sansa explains she was forced to write the message, and, instead of Arya refuting the facts, she simply tells her she doesn't believe that's enough. She should have known better. She should have fought harder. She just stood there with her pretty dress and pretty hair while their dad got his head lobbed off.
That's when Sansa realizes Arya was there too, and she certainly didn't do anything to stop it either. Plus, if it weren't for Sansa and the Knights of the Vale, their family never would have recaptured Winterfell. So there.
Their sniping devolves into some back-and-forth about who had it worse. If this were a different TV show, this is where they'd realize they're not too different after all. But this isn't TV at all, it's HBO, so, instead, Arya dangles the threat of sharing the letter with the other Northern houses.
The idea of losing support while Jon is away has Sansa feeling seriously shook. She confides in Littlefinger that she's worried about the other houses finding the scroll and getting the wrong idea. Littlefinger resists the urge to let out a Steve Urkel-esuqe "Did I do that?" before assuring Sansa that he definitely doesn't know where Arya even got that scroll, certainly not from him, that's for sure, why are you asking, oh you're not asking, nevermind then, is it hot in here? It feels hot.
That little lie accomplished, he slips in a very subtle hint to Sansa that if Arya was going to try anything, Brienne would have to step in to protect Sansa, as per her oath.
It's strange, because, in response to an invite from Queen Cersei, Sansa sends Brienne to go to King's Landing in her absence. Sansa not wanting to go hang out with Cersei Lannister definitely makes sense to me, but sending her protector seems like a foolish move. Unless …
Brienne is also sworn to protect Arya. So, if Sansa were going to make a move on Arya, Brienne would also be duty-bound to step in. Getting Brienne out of Winterfell might benefit Sansa if she wanted to strike Arya first. When Sansa sends Brienne on her way, the Lady of Tarth tries to warn her against Littlefinger's treachery. Maybe Podrick can stay behind and keep an eye on things? Nope. Sansa doesn't any protecting, thank you. Famous last words, indeed.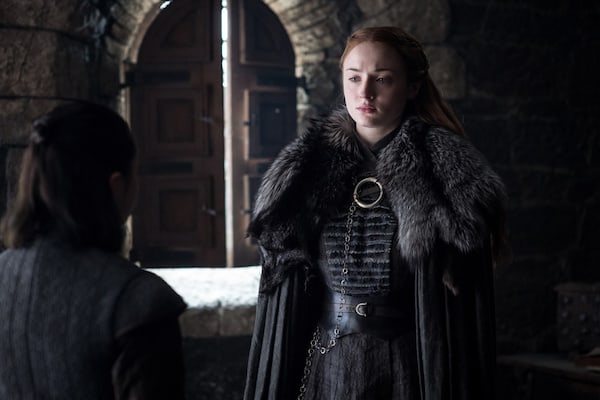 With Brienne en route to Kings' Landing, Sansa goes rifling around in Arya's room looking for trouble, and she sure finds it. Sansa empties out Arya's cute weekender bag that is just full of faces. Granted, these wibbly-wobbly, rubbery faces look a little more Party City than most things on this show, but, hey, big dragon battle scenes don't pay for themselves, you know?
Anyway, Arya catches Sansa snooping and immediately launches into this super creepy speech about training in Braavos and the Game of Faces. Sansa is thoroughly freaked out, but when Arya comes toward her with a dagger, the younger sister does a quick change, flipping the dagger around and presenting it to Sansa handle first. Way to keep everyone their toes, Arya, but you're being a creep.
Here's the thing, you guys, something doesn't smell right here. I feel like this Stark sister rivalry is a bit of a red herring. There's got to be another twist ahead. Do they see through Littlefinger's treachery? Is Littlefinger a Faceless Man? Whose face will Arya don next? And, also, why did Cersei invite Sansa to King's Landing? Shouldn't she already be expecting Jon Snow, per Tyrion's arrangements with Jaime? And, if not, shouldn't the invite have been for him? Perhaps I'm reading too much into it, or maybe it wasn't clearly stated enough, but something feels very off in Winterfell.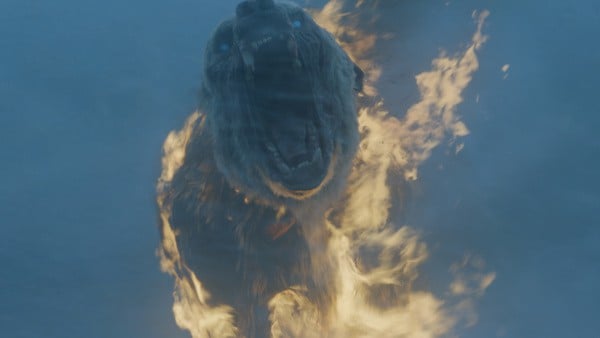 Meanwhile, beyond the Wall …
It's Snow Jon and the Seven (or so) Hunks. Finally we're seeing some real tedious travel, old school Thrones style as they traipse through the tundra. Along the way, the boys make time for some trust falls and self-reflection and deep conversation.
Jon and Jorah chat about their dads, leading Jon to offer Jorah Longclaw back. Jorah is like, nah, you keep it FOR YOUR KIDS. Maybe he was just trying to stay positive as they trekked headfirst into an army of the icy dead, or maybe this was a very important seed planted by very meticulous writers that are very rapidly wrapping up a story that is very preoccupied with lineage and succession. Who's to say?!
Jon and Beric chat about the existential crisis that comes from being resurrected and having a cool, hipster haircut. Then the convos get a little sillier starting with the Hound mocking Gendry for "whinging" about how Beric and Thoros sold him to Melisandre. Tormund talks to the Hound about his crush on Brienne, the Free Folk's "any port in the storm" approach to human sexuality and the definition of "d*ck." It's like the bleakest, all-male, high-fantasy reboot of Girls Trip I can imagine.
All the chitchat gets interrupted when a WIGHT BEAR comes to serve them some straight-up Revenant-style slobberknockery. Beric and Thoros do this incredibly cool thing where they set their swords on fire, and the geek in me gets stoked for it every time. So, now they're dealing with a giant zombie bear that IS ALSO ON FIRE, which doesn't exactly bode well. They eventually defeat the beast, but Thoros escapes the scrap with the worst wounds.
The crew comes upon a White Walker with a gaggle of his best wight squirrel friends. They ambush them, and Jon takes out the White Walker. Once the White Walker is down, all the wights collapse like some basic bs at the end of a bottomless mimosa brunch. (#WightGirlWasted)
Well, all the wights except, conveniently, one. They boys tie up the wight to bring back to Cersei. (Was I the only one nervous as they handled the wight, afraid he would "bite" the guys and turn them? I know that's not how these guys operate, but it's hard to shake the zombie rules that have been driven into us.) They guys realize that if you kill the White Walker, all the wights he created die too. The more you know!
Once they've got the wight all tied down (#FlatWight), the creature lets out a horrible scream. It's clearly a call for help, because Jon can hear the undead calvary come thundering toward them. Jon sends Gendry to run back to Eastwatch and send a raven to Daenerys for help.
The rest of the guys high-tail it away from the army of the dead scrambling toward them. They find a place atop a rock surrounded by a frozen lake. As the mass of wights encroaches, their collective weight breaks the ice and sends them into the freezing waters. They're still surrounded, but our heroes are safe … for now.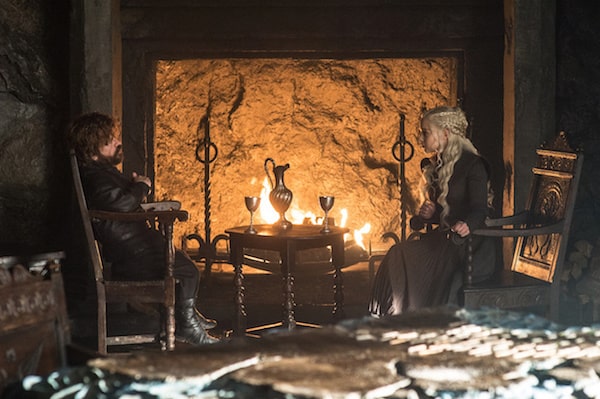 Meanwhile, at Dragonstone …
Dany and Tyrion are enjoying a very friendly fireside chat, and soon the conversation drifts toward Dany's love life. She assures Tyrion that Jon is not her type (famous last words, indeed … ), but soon they're back to talking about strategy.
Tyrion wants to honor the promise he made to his brother about NO SHENANIGANS when Cersei and Dany finally meet, but, you guys, come on. Surely someone has something up their sleeve, right? Anyway, Tyrion thinks this is a good time to bring up the whole Tarlys roasting on an open fire THING, and in doing so he calls Daenerys impulsive.
That's not really how you should be treating your queen there, buddy.
To further insert his foot into his mouth, he also gets on Dany about when she thinks she's going to have kids, and it's like, geez, MOM, I'm sort of busy trying to conquer a kingdom here? A khaleesi doesn't need a child to feel fulfilled! She has a career! (#WightFeminism?)
Gendry's raven arrives, and Dany is like peace out, Tyrion, I've got some dumb dudes to rescue with my childless ladyparts. Suck it, patriarchy!
Then she hops on her dragon and flies off.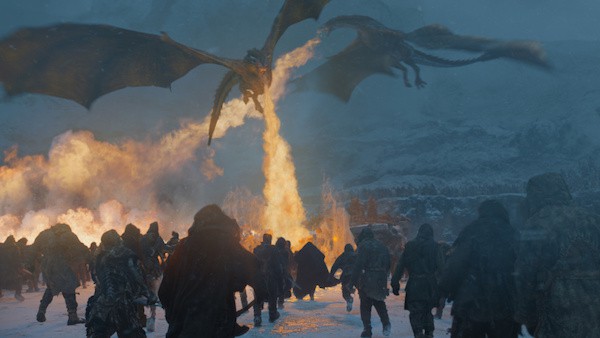 Meanwhile, back beyond the Wall …
Somehow the guys were able to get a peaceful night sleep despite being in the middle of a blizzard surrounded by countless literal monsters. (Maybe they had a #WightNoiseMachine? I can't help myself.)
Thoros is less lucky, succumbing to his injuries overnight. (R.I.P.) The other boys are getting restless waiting to be rescued. The Hound tosses a rock at a wight, which lands on the refrozen water, inadvertently cluing the wights in to that fact it's now safe to charge the guys' safe space. The army charges (thankfully only in spurts that can be dispatched by our remaining heroes), but, once the men start to get overwhelmed, help comes from above.
Dany and her dragons start torching the wights. She lands with Drogon to pick up the guys, but Jon is still busy giving them the ol' Longclaw. Then, the Night King picks up an ice spear of some kind and hurls it into the sky like some kind of supernatural Olympian, fatally striking Viserion. The dragon tumbles through the air, screaming, bleeding, until it finally falls into the water, sinking into the icy depths.
Have you ever felt so emotionally wrecked over the death of a CGI monster? I certainly haven't. We watched these dragons grow up, and I don't know how else to describe this, but Viserion's "performance" was actually gut-wrenching to watch. Then, of course, you had Dany's heartbreak at the loss of her child. It was a doozy of a scene.
There's not a ton of time to mourn. Dany is like, alright, boys, thank you for flying Drogon Air, please place your swords in the overhead compartment and remain seated for the remainder of your flight. Jon is still fighting the #wightpower (seriously, I have a problem), so he's like you guys go on ahead, I'm going to take the bus!
That's when the Night King reaches for another one of his ice spears, so Dany and crew take off, and Jon is knocked into the chilly waters by the wights.
He eventually climbs out of the frozen depths conveniently next to Longclaw (which, hold up, anyone else notice anything weird with the eyes of the wolf on Longclaw's hilt when Jon got out of the water? Might just have been the light — OR WAS IT?!). He's still greatly outnumbered, but he gets saved by Uncle Benjen "Coldhands"  Stark.
Coldhands throws Jon on the back of his horse and stays behind to hold off the wights. He appears to be overcome by enemies as Jon rides away.
Meanwhile, at Eastwatch …
Dany is waiting for Jon, but things are not looking hopeful. Everyone's like give up, he's not coming! There's no way he could have survived all … oh, wait, there he is riding to the gate now!
Meanwhile, at sea …
Dany visits Jon as he recovers. He apologizes for dragging her into this mess and getting her dragon killed. She's glad she went, because she had to see the Night King's forces for herself.
He calls her "Dany," which, hey, that's like "our thing." And by "our thing" I mean people that have to write 2,500 words about this show late on Sunday nights and honestly can't bear typing out Daenerys that many times.
Anyway, they make a lot of sexy, come hither eyes at each other, and rub each other's hands in a very familiar manner, and it's like, guys, stop, you're his aunt! Gross!
Jon calls Dany his queen, and she has a very sweet, vulnerable moment wondering if she deserves it. He assures her she does and they make more goo-goo eyes at each other.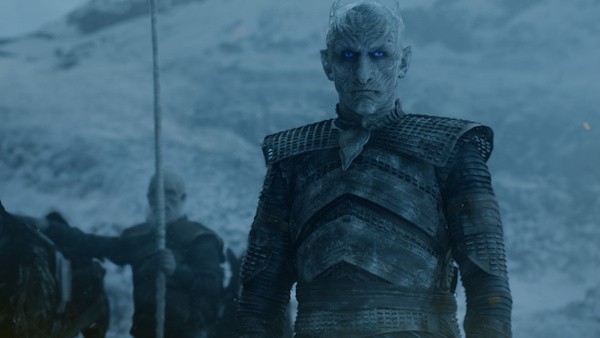 Meanwhile, back beyond the Wall, again …
The Night King gets his army of wights to yank Viserion out of the icy waters. He places his hand on the dead dragon's snout, and, wouldn't you know, the dragon's eyes open up glowing blue.
AH! ZOMBIE ICE DRAGON, Y'ALL!
Next week is the season finale already, and I don't even know what to expect. Cersei and Jon for sure discuss the Night King, but where does Sansa factor in? Will Arya make a move against her sister (or Littlefinger)? Will the Hound face off with his brother? Or Brienne? What will happen when Brienne sees Jaime? Does Cersei have a diabolical plan?
AND DID I MENTION THE ZOMBIE ICE DRAGON?
Leave your theories in the comments!