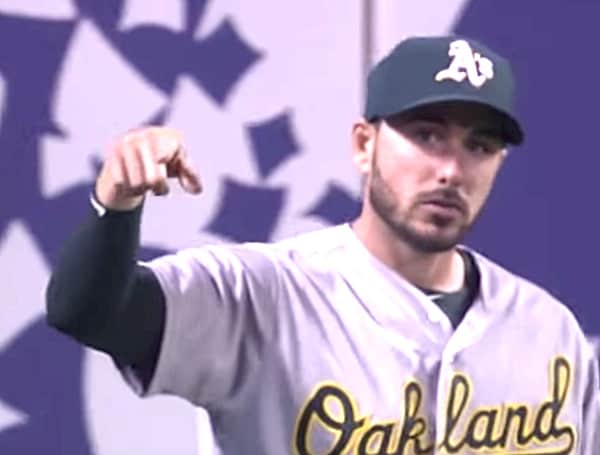 Oakland Athletics outfielder Matt Joyce used an anti-gay slur in an exchange with a fan during Friday night's game against the L.A. Angels, ESPN reports:
As Joyce returned to the dugout, he uttered several profanities at the fan, called him an anti-gay slur and challenged him to fight, according to AP photographer Mark J. Terrill, who overheard the exchange. Terrill said he did not hear the first part of the exchange.
"It's just one of those things that fans kind of get into the game. Obviously, we're pretty frustrated on our side, and I had just hit a ball hard and had Cron make a good play," Joyce said after the game. "I was walking back to the dugout and just had a fan yell some vulgar and obscene words. For me, it just wasn't the right time to say some stuff like that. I fired back, and obviously as soon as you fire back, you regret saying anything, because it's just not worth it."
In May, Toronto Blue Jays center fielder Kevin Pillar was suspended for two games after yelling an anti-gay slur at Braves pitcher Jason Motte.
Following his suspension, Pillar apologized, saying he was "completely and utterly embarrassed" by his actions.
The You Can Play team would like to invite the Oakland Athletics' Matt Joyce … to promote respect for the game of baseball and all fans. pic.twitter.com/PfQDm080BE

— You Can Play (@YouCanPlayTeam) August 5, 2017