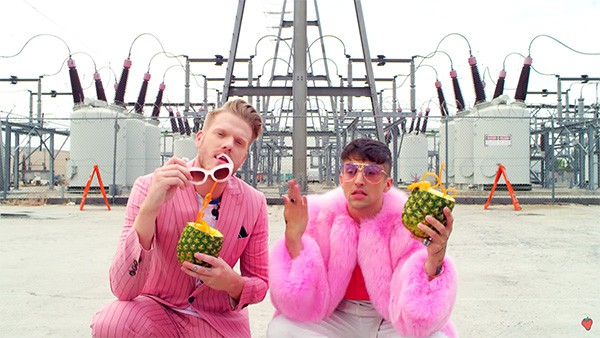 Superfruit is back, decked out in pink and ready to take us on "Vacation" with a second video cut from their EP Future Friends.
Following on the heels of "Imaginary Parties," the web comedy duo of Mitch Grassi and Scott Hoying are also the most LGBT-fabulous members of a cappella group Pentatonix and have continued their their foray back into fun music. Their seven-track EP launched at the end of June and is a tribute to all the facets of the pair's colorful, sometime-romantic relationship.
Their ironically less-than-scenic backdrops like a gritty freeway underpass and the fenced-off transformers of a power plant contrast with their eye-popping get-ups and props, and send the message that vacation is less about the destination and more about the right company and frame of mind. You might say that vacation is all they—and we—ever wanted.
Watch and listen below:
[youtube https://www.youtube.com/watch?v=yFq6U8YibOU]