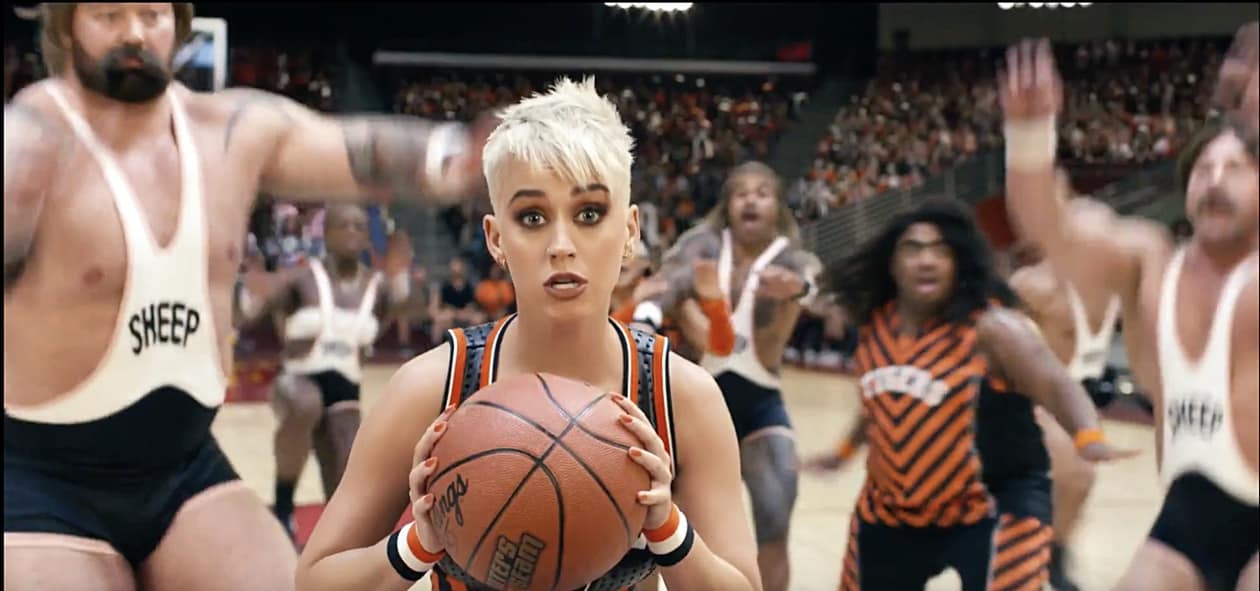 Katy Perry's "Swish Swish" video is here and features an "unwatchable, eye-gouging blowout" of a basketball game between the Tigers (led by Katy "Kobe" Perry) and the Sheep.
The mess, called by announcers Bill Walton (an NBA legend) and NFL Network reporter Rich Eisen opens with a rundown of Katy's team, which does not look promising. Teammate Gaten "Tragic Johnson" Matarazzo (Stranger Things) comes in with the dubious record of being blocked 955 times, while Jenna "The Rainmaker" Ushkowitz (Glee) is simply unable to stop sweating profusely despite 12 surgeries on her glands. The rest of KP's squad are not much better, rounded out by viral video star Christine "Shaquille O'Meal" Sydelko, clueless dancer Dexter "Hair Jordan" Mayfield and least valuable player Russell "Pack-Man" Horning (aka Backpack Kid).
Also featured in the clip: Terry Crews, Molly Shannon, Hafþór Júlíus Björnsson aka The Mountain from Game of Thrones, and of course Nicki Minaj, whose uplifting halftime rap infuses the Tigers with new life.
Watch: