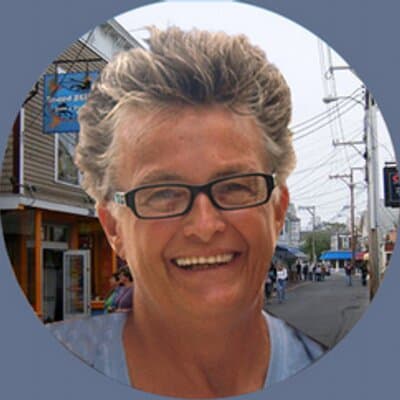 Wendy Hunt, a pioneering DJ in a mostly-male business for more than four decades and a regular on the gay nightlife circuit, died on Sunday night at the age of 64. Hunt took her own life, according to her sister Kavita, who posted notice of her death on Facebook.
I am writing to share stunning and heartbreaking news with you about Wendy.
After decades of struggle and suffering – some she shared with Facebook friends, though most she endured privately – Wendy died last night. She took her own life. For all of us, this is a tremendous loss. I cannot express all I'm feeling right now. Beyond words. You may feel similarly.
In the days ahead, we will post an obituary notice in the local newspaper.
For now, there are tears, and questions, and love.
As Wendy was of few means at this stage in her life, I will be setting up a donations page to assist in her cremation and memorial arrangements.
May Wendy's bright and beautiful spark shine in our lives. Please hold Wendy in your hearts with love.
From Hunt's bio at Pride Fort Lauderdale:
Wendy Hunt was born in California while spending her formative years in Massachusetts. It was during nursing school in the early 1970's that Wendy became interested in becoming a DJ. "You have to have a passion for the music," states Hunt. That life-long passion became public right there at the 1270 in Boston, where Wendy was given her first DJ gig. "I was bit by the bug while dancing to the jukebox at the 1270 (the twelve, to the frequenters)", said Hunt. "Little did I know that moment would pave the road to a lifetime career." As the years progressed, her influence on the music world grew. It was Hunt who was part of the production of the very first gay dance Sunday night at the popular club formerly known as a variety of names culminating in "Avalon" in Boston. As the Circuit grew, Wendy continued delighting the patrons of numerous major Circuit events, including Winter Party and White Party in Miami, White Party Palm Springs, Purple Party Dallas, Ascension Party Fire Island Pines and Valley of the Dolls in Dallas to name only a few.
Fellow Circuit mainstay DJ Susan Morabito paid tribute to Hunt's influence, writing: "Mrs. Wendy Hunt, one of the first of three groundbreaking female DJs who made a mark in the 70s and opened up the doors to the rest of us. Her contribution and dedication to her art will never go unnoticed. A lovely lady and beautiful soul, may she rest in peace."
Our thoughts go out to Hunt's family and all those close to her.
Hunt's last posted mix on Mixcloud, published on Sunday.
(image via Twitter)