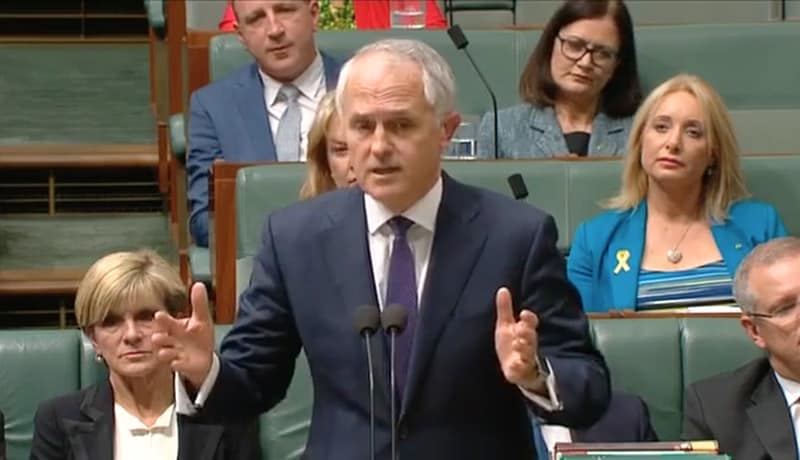 Prime Minister Malcolm Turnbull resisted a push Monday from seven members of his own governing Coalition to hold a free vote on marriage equality for Australia, and will instead fall back to a parliamentary vote on holding a plebiscite that has already failed once before and seems likely to do so again.
In a meeting held among members of the Liberal Party — the senior party of the conservative Coalition in power along with the National Party — a majority won out in deciding to stick to a policy of only allowing marriage equality to go forward by compulsory plebiscite among the voting public.
The meeting was held following movement on the issue over the weekend, when Liberal MP Dean Smith put forward a bill backed by four other Liberal MPs that would alter the language defining marriage to "a union of two people" and indicated his preference for a free vote of conscience on the bill. However, only two more signed onto the effort in the meeting.
The Sydney Morning Herald reports:
Just seven Liberal MPs voted to abandon the plebiscite policy on Monday, with four times as many against, in the course of a two-hour emergency meeting to deal with the issue.
Those who argued for ditching the plebiscite were gay MPs Trent Zimmerman, Trevor Evans, Tim Wilson and Senator Smith, as well as supporters Warren Entsch, John Alexander and Jason Wood.
Mr Entsch told Fairfax Media he was "disappointed" by the outcome. He reserved the right to cross the floor and said he wanted a clear end-date for the issue to be resolved.
Liberal MPs endorsed the position advocated by the plebiscite's architect, former prime minister Tony Abbott, who told 2GB on Monday: "We've put the plebiscite up once, that's all. We should have another go. If that fails, let's have another go."
Mr Abbott spoke against ditching the plebiscite during the meeting, but also against the postal vote option, which he said would lack authority. However, it is understood most MPs who supported the plebiscite also backed the postal option.
The National Party already confirmed its continuing support for the plebiscite policy in a meeting on Friday, with a joint Liberal/National meeting still set to go ahead on Tuesday not expected to alter their stance.
The postal vote option would involve a non-binding vote by mail among the public, although legal specialists suggest that it would also run into trouble. PFLAG issued its intentions in a statement to challenge any postal vote in the courts in conjunction with other pro-marriage equality groups:
Equality advocates will challenge a marriage equality postal vote in the High Court if the Government goes ahead with the idea.
Parents and Friends of Lesbians and Gays has received legal advice from leading QC, Ron Merkel, which gives it confidence it can win a High Court challenge.
Jonathon Hunyor, CEO of the Public Interest Advocacy Centre, which has taken on the case for PFLAG, said, "The advice strongly suggests that without specific legislation the government lacks the power to validly hold a postal vote on same sex marriage."
"Parliament needs to pass a new law to allow a postal vote to be held on this issue and needs to allocate specific funds to conduct the postal vote. Neither of these conditions has been met."
The fresh drama comes after a protracted five-year process regarding the issue continuing into this year with a Senate inquiry, which ultimately issued a report seeming to pave the way forward.
Turnbull could follow the example set by German Chancellor Angela Merkel in recent months, who let the matter come to an ultimately successful vote among lawmakers even as she and her party officially did not approve of same-sex marriage. Instead, he seems to want to throw everything at the wall to see if anything sticks, despite Smith's argument to his own party that it would be better to legalize same-sex marriage on its own terms that would offer "religious protections" and key senators' avowal to continue their opposition to a plebiscite from the last failed vote just this past November.
Even if a compulsory plebiscite were held and endorsed marriage equality, the issue would still be kicked back to Parliament, which could still reject it in a free vote after all:
Here are the possible outcomes going forward… pic.twitter.com/1vKAafHPu4

— Lane Sainty (@lanesainty) August 7, 2017