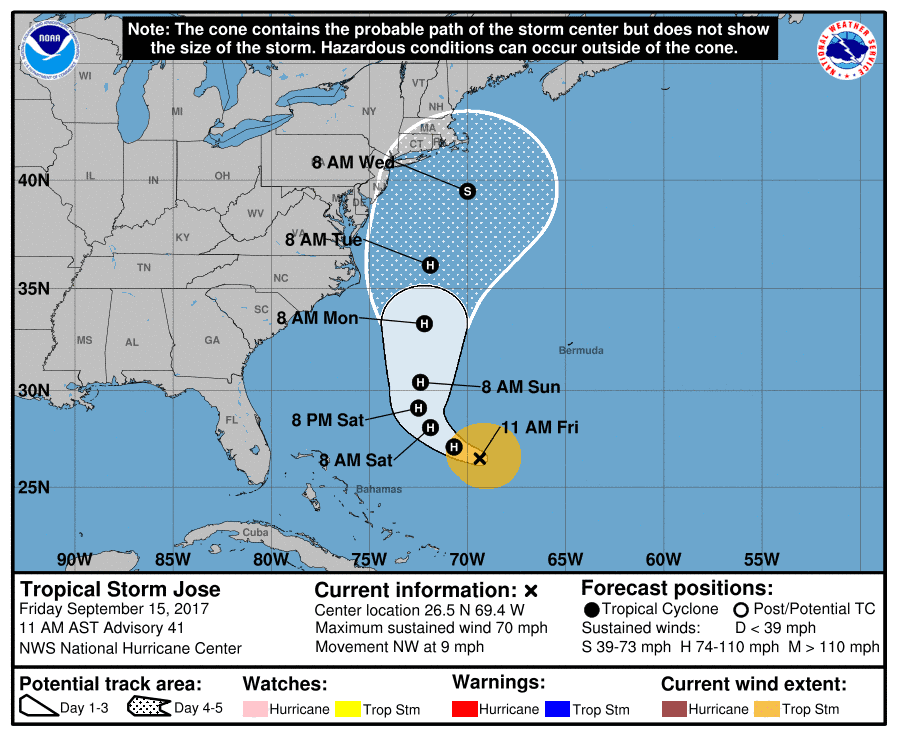 Hurricane Jose will likely threaten the northeast United States and New England next week some time, according to new alerts from the National Hurricane Center which has placed some coastal areas within the "cone of uncertaintly."
It's unclear at this point what threat it will pose to land.
A majority of the models keep the center of the storm over the ocean, including the major global models from the Americans — GFS — and Europeans — ECMWF.
Still, the proximity to land will likely bring strong gusty winds and rain to the Northeast, including New York City, by the middle of next week. In addition, tropical storm-force winds could extend to North Carolina's Outer Banks on Monday, the National Hurricane Center said.
The official forecast track from the hurricane center puts Jose as a strong tropical storm Wednesday 225 miles southeast of New York. Coincidentally, the average track error for the forecast at five days is 225 miles. The forecast gives about a 1-in-4 chance of seeing tropical storm-force winds — more than 39 mph — in the Mid-Atlantic and Northeast.
Forecast models as of this posting: