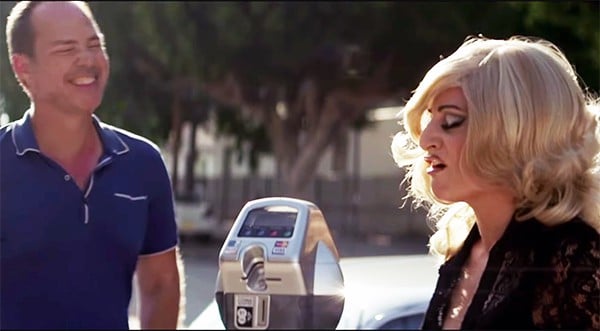 Dennis had a special birthday wish to hang out with Madonna, and his best friend Nadya happens to be a witty comic who can nail a Material Girl impersonation. If We Took a Holiday is a short film that features the two romping through the day with numerous winking nods to various aspects of Madonna-rama and showcasing the fun, supportive bond between two friends.
Written and directed by Glenn Gaylord and starring Dennis Hensley and Nadya Ginsburg, the nearly 18-minute effort works in a healthy dose of gay good humor as well as two video dance sequences that include a "La Isla Bonita"-esque ode to a taco truck with Music-era vocoder effects and an "Into the Groove"-meets-"Deeper and Deeper" ditty at a nightclub that would've been at home on Confessions on the Dance Floor. Dennis recently split from a boyfriend while Nadya's career is struggling, but the two manage to keep their spirits up with each other's help.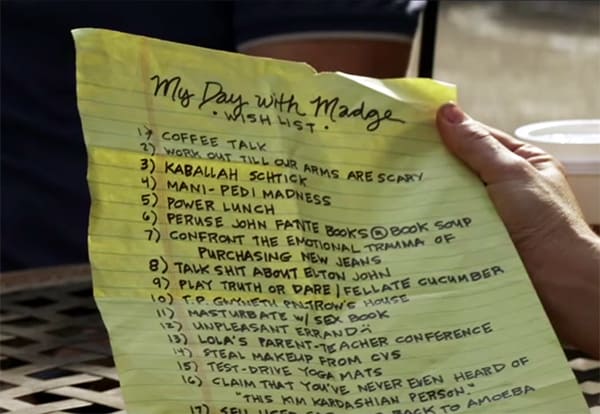 While relentlessly sending up Madonna's nasal, faux-British tones and haughty expressions, If We Took a Holiday also runs a gamut of familiar references and motifs that a dedicated fan would instantly recognize, as well as namedropping in-jokes featuring the likes of Liz Rosenberg, Rosie O'Donnell, and the former Robin Wright Penn. Nadya ad-libs several deadpan one-liners that frequently make Dennis — and the viewer! — crack up. The friends are each lifelong admirers of La Ciccone, with Dennis citing Blonde Ambition-era Madonna as his favorite — "Ponytail or ringlets?" "Ringlets!" — and Nadya reminiscing how she looked up to Madonna's tough, cool Susan in Desperately Seeking Susan.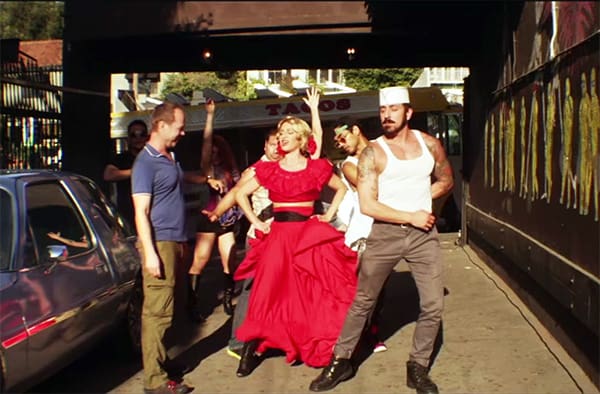 The whole thing wraps up with a reenactment of the memorable last scene from the "Open Your Heart" video and the credits roll as Nadya does her take on the "Justify My Love" spoken word bits.
Watch the film below.