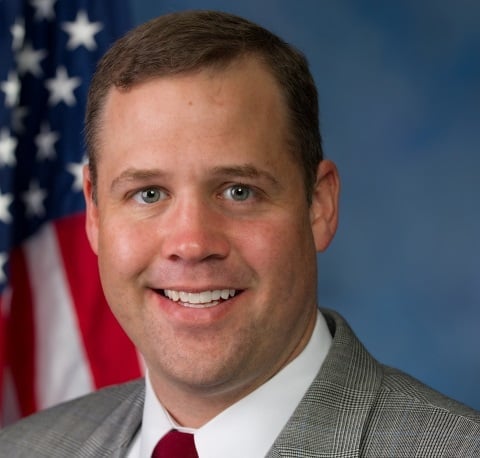 LGBT activists are taking action to derail Donald Trump's nomination to run NASA because of his controversial stances on such issues as same-sex marriage and transgender "bathroom bills."
Former Navy pilot and Republican Rep. Jim Bridenstine (above) has said that gay marriage is "contrary to millennia of human experience." He described bathroom protections for transgender people as "lawless federal bullying."
Matt Thorn, executive director of OutServe-SLDN, which represents the LGBT military community, said:
"It is rather hypocritical to have an individual so entrenched in his idea of 'traditionalism' to be nominated to lead an agency that has for almost 60 years pushed to expand our understanding and knowledge.
"NASA is rich in diversity. Rep. Bridenstine doesn't have that same view. The Senate should block this nomination."
Not a joke: NASA nominee wants to strip "expansion of human knowledge" about space & Earth from NASA objectives https://t.co/k8Ld0U76Wr

— Carl Zimmer (@carlzimmer) September 9, 2017
Politico reports:
Bridenstine, whose views on climate change have stirred controversy given NASA's role in climate science, also opposes same-sex marriage, saying that "many studies have shown that both a mother and father are essential for raising successful and healthy children."
He railed against the 2013 Supreme Court decision declaring same-sex marriage constitutional. "The court's decision was a disappointment not only because it is contrary to millennia of human experience," he said, "but also because it is clearly contrary to the choice of the people as expressed in a constitutionally valid process."
And he has criticized the Boy Scouts for allowing LGBT members.
"The left's agenda is not about tolerance, and it's not about diversity of thought," Bridenstine said in 2013. "It's about presenting a worldview of relativism, where there is no right and wrong, then using the full force of the government to silence opposition and reshape organizations like the Boy Scouts into instruments for social change."
According to Sarah Kate Ellis, president of GLAAD, "the Trump administration has hired unqualified anti-LGBTQ blowhards from Day One and shown they are more concerned with furthering attacks on marginalized communities than selecting leaders who will better our country."
"NASA's Kennedy Space Center released a LGBTQ Pride month video earlier this year featuring LGBTQ NASA employees as well as allies," she added. "It is critical for our country's continued success that NASA employees bring their best selves to work, and that can't happen when the head of an organization is known first and foremost for being anti-LGBTQ."
Although the White House has not addressed the issue, a spokesman said in statement that "the President selects the highest caliber of individuals to fill positions in his Administration…[Bridenstine] has consistently been one of NASA's strongest advocates in Congress."
Bridenstine is also facing criticism for his assertions that climate change — a key research area for the space agency — is not caused by humans.
(Image via Wikipedia)